Hotel Recommendations
We feature corporate rates/discounts at several great hotels located close to the venue. See below for details provided by the hotels themselves.
Hyatt Place Innsbrook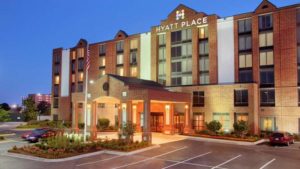 Hyatt Place Richmond Innsbrook
4100 Cox Road
Glen Allen, VA 23060
(p) 804-747-9644
(f) 804-346-9320
www.hyatt.com
The Hyatt Place Richmond Innsbrook is excited to be a preferred hotel partner for our Tin Pan guests. Our hotel provides all of the amenities and services needed to enhance an enjoyable show or performance at The Tin Pan.
With an ideal location just minutes from Tin Pan, convenient to shopping, entertainment and over 25 local restaurants; our suite type rooms, extended complimentary breakfast and discounted concert rate add value to an already wonderful event.
Take advantage of everything that Hyatt Place Richmond Innsbrook has to offer by clicking on the link below to secure your reservation.
https://www.hyatt.com/en-US/hotel/virginia/hyatt-place-richmond-innsbrook/riczi?corp_id=23935
For group reservations, you may contact us directly at 804-747-9644. Our sales team will be happy to assist you.
Residence Inn Short Pump at the Notch
Are you a concert goer? Are you a musician looking for a retreat while in Richmond? We offer Tin Pan guest discounted rates on king suites or standard double rooms. Take a "Suite" retreat to Residence Inn Short Pump at the Notch. We have teamed up with The Tin Pan . Experience legendary entertainment in an intimate setting. You can catch a show and then take the elevator home. Residence Inn is just minutes from the venue located just past Short Pump Mall. We offer music lovers a Tin Pan discount on Kings or Double rooms. This rate also includes a complimentary breakfast buffet, complimentary evening social and complimentary internet.
Here is the reservation link you can use to make online reservations at rates specifically negotiated for The Tin Pan
Comfort Suites Innsbrook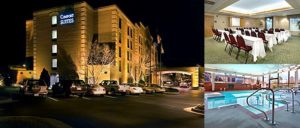 This hotel is just minutes from the Tin Pan. We invite you to relax in our spacious suites, all of which feature a refrigerator, microwave, coffee maker, satellite TV, hair dryer, iron and ironing board. Keep your electronic devices charged with the recharge device including AC and USB outlets provided in all guest rooms. Select suites also offer a whirlpool bathtub.
Whether you're an artist, musician or a fan staying in Richmond for a show, Comfort Suites Innsbrook hotel in Glen Allen, VA will give you everything you need to make your trip a success. Your trip to Comfort Suites will start your morning with our free hot breakfast offering everything from eggs, waffles and meat to healthy options like yogurt and fresh fruit.
Rested, set, go – book now! Kings or Double Suites $89 per night.
You can also enjoy such amenities as:
Free Wi-Fi
Indoor pool and sun deck
Exercise room
Guest laundry facilities
Free parking
Other Hotel Recommendations
Virginia Region Tourism Website | Trip Advisor | Hotel Guides