Mike Dawes & Trevor Gordon Hall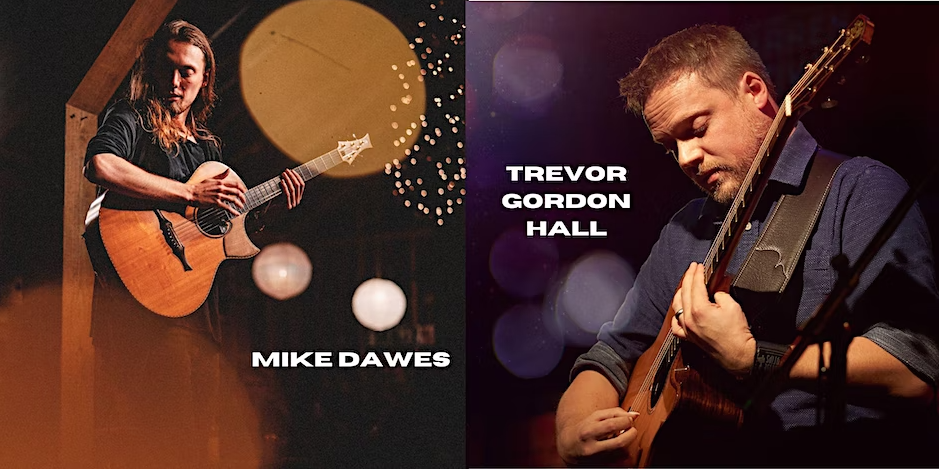 Mike Dawes & Trevor Gordan Hall appearing at The Tin Pan in Richmond, VA
Seating: We assign seats in order of when you purchase your tickets. All reservations are subject to a food and drink minimum of $15 per guest. Gratuity of 20% is automatically added to all food and beverage purchases.
COVID-19 Policies: As live music reopens across the country, we, along with other venues, are prioritizing the health and wellness of our guests and staff while closely monitoring all government guidelines and recommendations regarding the spread of infectious disease.
Box Office: The Tin Pan charges lower fees for box office versus online sales. Our box office is open Tue-Sat 12PM-5PM. Please visit us during those hours or call 804-447-8189.
Mike Dawes is an English guitarist known for composing, arranging, and performing multiple parts simultaneously on one instrument. He is hailed as one of the world's most creative modern fingerstyle guitarist with a repertoire spanning solo viral video hits alongside mainstream chart success performing with Justin Hayward from The Moody Blues. Dawes was named "Best Acoustic Guitarist in the World" by Total Guitar Magazine / MusicRadar in both December 2017 and 2018 readers polls.
Dawes' recent solo album, ERA, spawned a viral hit with his arrangement of "One" by Metallica that has over 4 million YouTube views. His debut record, "What Just Happened?", featured the fan favorite original, "Boogie Slam" and another viral hit with the Gotye song, "Somebody That I Use To Know" with almost 5 million YouTube views. Dawes is also featured on multiple Justin Hayward live releases such as Spirits…Live, which debuted at #2 on the US Billboard Chart. Dawes also a strong reputation as a music educator, acting as a columnist for Guitar World and Acoustic Guitar as well as teaching multiple guitar workshops all over the world. In addition to touring North America and Europe with Justin Hayward, Dawes has also toured with fingerstyle guitarists such as Andy McKee and Tommy Emmanuel. Dawes has also been a part of several 'International Guitar Night' tours.
"F#@cking Awesome" – James Hetfield (Metallica)
"Astounding Virtuosity" – Gotye
"Mike Dawes is a wonderful musician and a dear friend." – Tommy Emmanuel, CGP
"He's among the very best in the word. He's exceptional, and I know you're going to love him!" – Justin Hayward (The Moody Blues)
Trevor Gordon Hall is a unique and pioneering voice on the international stage; a musical journeyman who speaks through his guitar and every sound that it's capable of, rather than words. On top of a touring calendar that's taken him through 17 countries and counting, his growing discography has amassed millions of listens and views through Spotify and YouTube, allowing his music to connect across borders and languages. Rated a top 30 under 30 guitarist by Acoustic Guitar Magazine, he is widely recognized for his invention of the "kalimbatar" — a guitar that combines a customized African finger piano, called the kalimba ⁠— and has shared the stage with or drawn admiration from peers and guitar legends ranging from John Mayer and Steve Miller to Will Ackerman and Phil Keaggy. Whether it's through his solo work, international touring, new collaborations or teaching students, he thrives on the discovery and lives for the possibility, and that's what makes him such a thrilling artist to follow and grow old with in the years to come. Learn more and listen at TrevorGordonHall.com.
"…In the genre of intriguing guitar players Trevor really stands out. His music is both soothing and challenging…" – Graham Nash (Crosby, Stills, and Nash)