David P. Stevens & Steve Oliver: "Strings & Tings"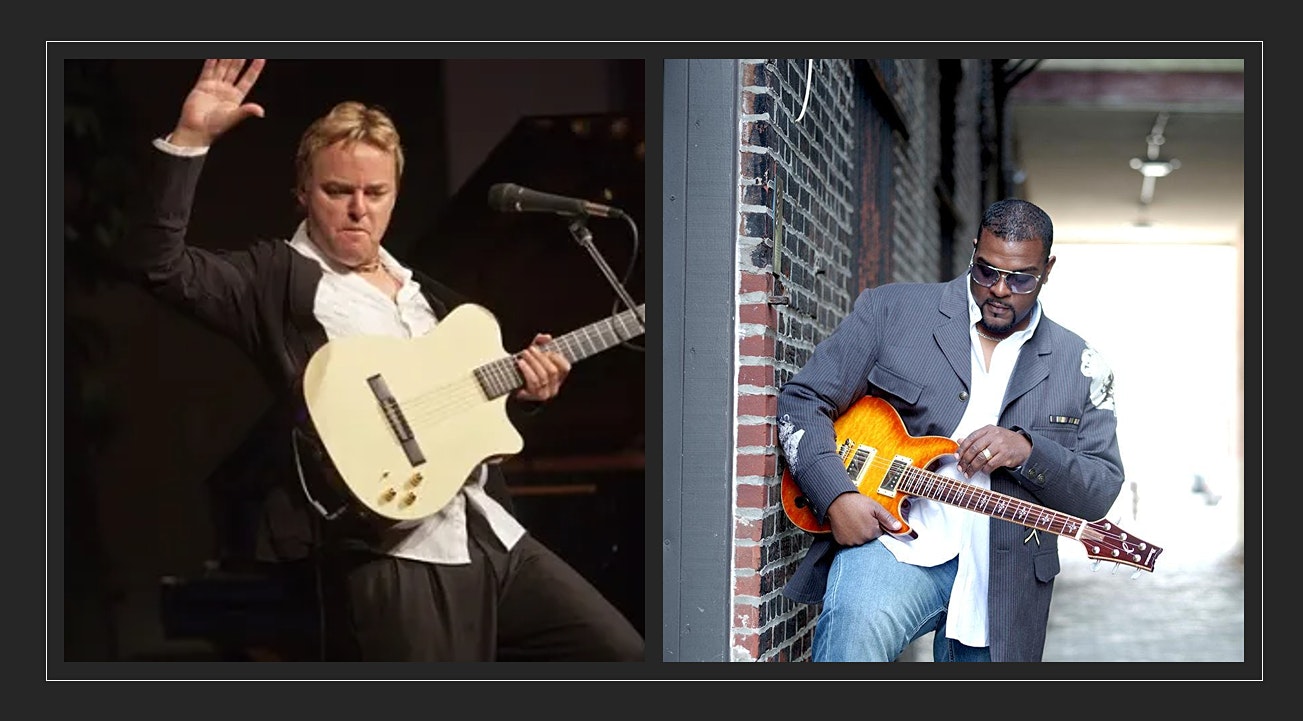 David P. Stevens & Steve Oliver: "Strings & Tings" appearing at The Tin Pan in Richmond, VA
Proof of complete COVID-19 vaccination required for entry.
Please bring your CDC-issued vaccination card (physical copy or a photocopy is acceptable).
Seating: We assign seats in order of when you purchase your tickets. All reservations are subject to a food and drink minimum of $13 per guest.
COVID-19 Policies: As live music reopens across the country, we, along with other venues, are prioritizing the health and wellness of our guests and staff while closely monitoring all government guidelines and recommendations regarding the spread of infectious disease. We are requiring face coverings for all staff and guests for the foreseeable future.
Box Office: The Tin Pan charges lower fees for box office versus online sales. Our box office is open Mon-Fri 12PM-5PM. Please visit us during those hours or call 804-447-8189.
Quickly becoming a recognized name in songwriting, production and performance, is LA based, multi-talented, David P. Stevens. Reminiscent of his biggest influence Babyface, David shows us the full range of his musical prowess and passion in more ways than one. Equipped with the precision and the skills needed to stand out from the crowd, Stevens has shared the stage and studio with prominent artists, such as: Gerald Albright, Nick Colionne, Najee, Jaguar Wright, Frank McComb, LaToya London, Lisa McClendon, and many more. As a top-notch performer, Stevens has graced the stage during a variety of popular music festivals, such as: Berks Jazz Fest, Rehoboth Jazz Fest, Queen City Summer Fest, Capital Jazz Cruise, Lake Arbor Jazz Fest and more. David is confidently solidifying his place as a funky, dynamic and exceptionally creative artist with a unique sound of his own. He continues to garner the positive attention of music aficionados from all over the world!
Known for his electrifying, high-energy performances, we now find David P. Stevens touring the world and captivating crowds, as he showcases original songs from his 8 explosive albums. Each album features a set of top musicians and artists in the genre. As a result of these efforts, Stevens has propelled himself further with every spin. Evolution, his 8th release, features more of the magic Stevens has become known for, but with a fresh new, polished and focus. This album featured Will Donato, Althea Rene, Jackiem Joyner, Phil Denny, Lin Rountree, Tony Exum Jr., Elan Trotman and more and more! There is a seasoned sophistication David brings to each of his projects, and Evolution is no exception!
In addition to writing, producing and performing, David recently graduated Magna Cum Laude from Berklee College of Music, receiving a Master's degree in Business, with a music focus. David is also making his way into producing music for TV, film and commercials.
Exciting, innovative, energetic, memorable, and downright funky, are the qualities which prompt fans to fill clubs, and attend shows where David P. Stevens is performing.
With a career spanning over 25 years in music, multi-instrumentalist, singer, songwriter and producer Steve Oliver is still being heard each day on contemporary and smooth jazz radio around the world.
His career has produced multiple #1 hits on the Billboard charts and countless radio staples over nearly two decades – including with his latest album "Unified" (2020) – a collaboration with keyboardist Brian Simpson that has reached the #1 spot on the Billboard and Amazon jazz sales charts.
Steve's been a touring member of Acoustic Alchemy, has played countless club dates and headlined festivals worldwide. He's also co-written and produced tracks with Grammy award winning pianist Omar Akram and many smooth jazz notables including Vincent Ingala, Brian Simpson and Paul Taylor.
Having released eight studio albums, a live CD / DVD package and a "Best Of", for Oliver, music is therapy and a welcomed diversion from the current world climate. With radio legacy hits to his credit including "High Noon", "Fun In The Sun", and "Global Kiss", today Oliver is just as comfortable being a creator, adviser, and mentor to others.
With his 2019 full-length album "Illuminate". A follow up to 2016's acclaimed all vocal project "Pictures & Frames" (recorded with the legendary Vinnie Colaiuta on drums and Leland Sklar on bass at the famed Capitol Studios in Hollywood), Illuminate is record deeply rooted in contemporary jazz guitar melodies and Steve's trademark wordless vocalese. With Steve's instantly recognizable guitar lines and a list of guest artists that includes bass virtuoso Jimmy Haslip, the incredible Joel Taylor on drums, and sax luminary Nelson Rangell, Illuminate puts the spotlight back on one of the genre's most engaging performers and songwriters.