Darrell Scott & Robbie Fulks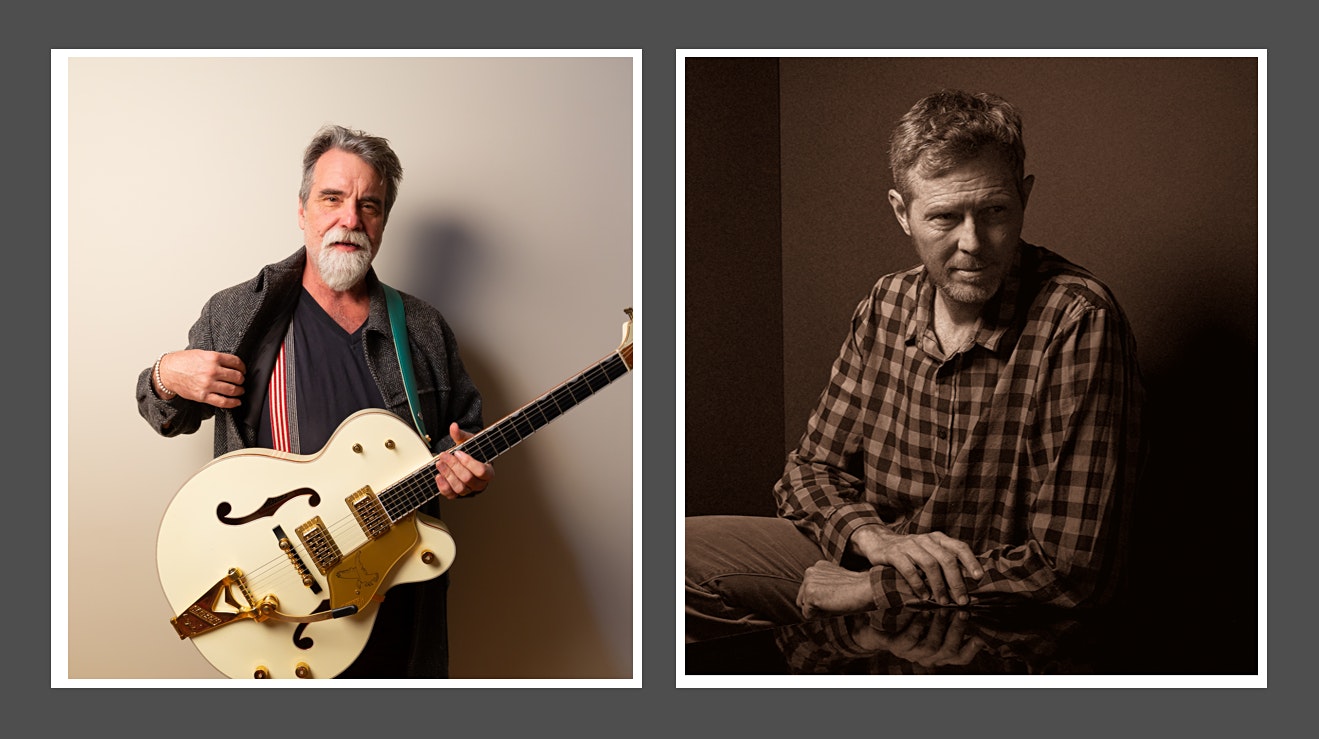 Darrell Scott & Robbie Fulks appearing at The Tin Pan in Richmond, VA
Proof of complete COVID-19 vaccination required for entry.
Please bring your CDC-issued vaccination card (physical copy or a photocopy is acceptable)
Seating: We assign seats in order of when you purchase your tickets. All reservations are subject to a food and drink minimum of $13 per guest.
COVID-19 Policies: As live music reopens across the country, we, along with other venues, are prioritizing the health and wellness of our guests and staff while closely monitoring all government guidelines and recommendations regarding the spread of infectious disease. We are requiring face coverings for all staff and guests for the foreseeable future.
Box Office: The Tin Pan charges lower fees for box office versus online sales. Our box office is open Mon-Sat 12PM-5PM. Please visit us during those hours or call 804-447-8189.
With his latest album, Darrell Scott Sings the Blues of Hank Williams, well-traveled troubadour Darrell Scott ventures deep into the heart of darkness of Williams to explore the beauty in the pain as crafted from the soul of a master.
"I grew up on Hank Williams – it came from my dad who idolized him – as I heard the entire catalog of Hank from my crib and beyond, I recognized what he loved about Hank: poetic, yet totally understandable, honest, heart broken, love sick lyrics and the possibility of forgiveness from a woman, or from one's self, or from one's Creator. I listened closely" recalls Scott.
Nine carefully selected and skillfully crafted songs make up this resplendent anthology. Just as in song choice, the attention and finesse given to the sound of this record is evident from first listen. Scott bores in on the blues of Hank as he navigates varying tempos.
"I was always struck by the blues in Hank's songs in that beautiful blend of black blues tradition and poor white boy belting, having way more in common than what oughta separate them – in lyrics, in voice and in chords."
Scott's album of Hank's songs serves to honor not only Hank but also Scott's late father, Wayne Scott. Hank laid a foundation in Wayne that carried through to Darrell.
"I heard Hank, I heard my dad, and I heard the blues that was only a guitar grab away for me,"
Scott says. "It did not occur to me to play or sing it like Hank; but, I strive to be true to the spirit and throw my version of blues towards Hank songs. This recording is that."
"So, hell yes," Scott says, "my Hank runs deep."
Robbie Fulks is a singer, recording artist, instrumentalist, composer, and songwriter. His most recent release, 2017's Upland Stories, earned year's-best recognition from NPR and Rolling Stone among many others, as well as two Grammy® nominations, for folk album and American roots song ("Alabama At Night").
Fulks was born in York, Pennsylvania, and grew up in a half-dozen small towns in southeast Pennsylvania, the North Carolina Piedmont, and the Blue Ridge area of Virginia. He learned guitar from his dad, banjo from Earl Scruggs and John Hartford records, and fiddle (long since laid down in disgrace) on his own. He attended Columbia College in New York City in 1980 and dropped out in 1982 to focus on the Greenwich Village songwriter scene and other ill-advised pursuits.
In 1983 he moved to Chicago and joined Greg Cahill's Special Consensus Bluegrass Band. He taught music at Old Town School of Folk Music from 1984 to 1996, and worked as a staff songwriter on Music Row in Nashville from 1993 to 1998. His early solo work — Country Love Songs (1996) and South Mouth (1997) — helped define the "alternative country" movement of the 1990s. His music from the last several years hews mainly to acoustic instrumentation; it returns him in part to his earlier bluegrass days, and extends the boundaries of that tradition with old-time rambles and sparely orchestrated reflections on love, the slings of time, and the troubles of common people.