Althea Rene and Phillip "Doc" Martin
March 5 @ 8:00 pm

-

10:00 pm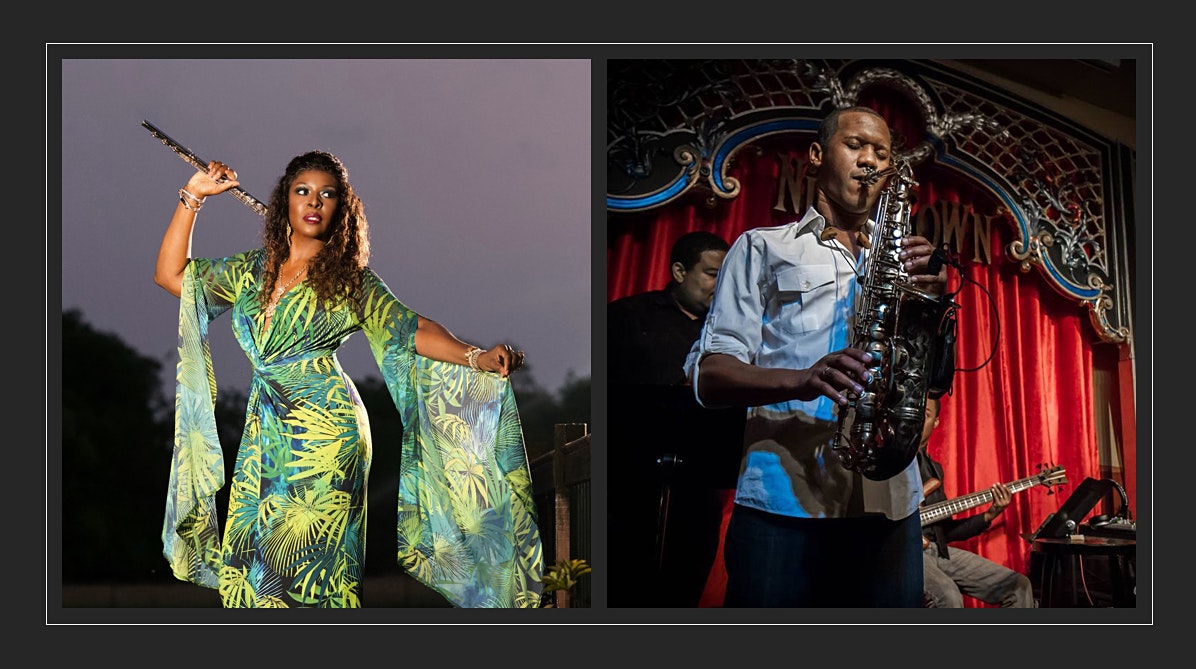 Althea Rene and Phillip "Doc" Martin appearing at The Tin Pan in Richmond, VA
Proof of complete COVID-19 vaccination required for entry.

Please bring your CDC-issued vaccination card (physical copy or a photocopy is acceptable).
Seating: We assign seats in order of when you purchase your tickets. All reservations are subject to a food and drink minimum of $13 per guest.
COVID-19 Policies: As live music reopens across the country, we, along with other venues, are prioritizing the health and wellness of our guests and staff while closely monitoring all government guidelines and recommendations regarding the spread of infectious disease. We are requiring face coverings for all staff and guests for the foreseeable future.
Box Office: The Tin Pan charges lower fees for box office versus online sales. Our box office is open Mon-Fri 12PM-5PM. Please visit us during those hours or call 804-447-8189.
Born on December 25th in Detroit, Michigan Althea René began her musical journey at the tender age four-year-old. She studied classical music while attending Howard University. For more than 10 years she worked as a Wayne County Deputy Sheriff (in Detroit, Michigan) during the day and performed in jazz clubs at night. Today, she is a full-time performing and recording artist.
Althea René gained musical inspiration from her father Dezie McCullers (one of Motown's original Funk Brothers). She has since developed her own creative style. Some regard her as a "master of her craft" and one of the world's most exciting solo improvisational flutists. The multi-platinum and Grammy-nominated saxophonist Najee playfully refers to her as the "Maceo of the flute".
In May 2013, she released her hit CD entitled "In the Flow". Collaborating with Grammy award-winning producer Michael Broening, she co-wrote the title track that made history as the first flute featured single to be ranked "number one" on the Billboard and Smooth Jazz charts. This scorching hot single topped the charts for several weeks.
With a passionate mission to mentor women in the entertainment industry, Althea René authored an autobiography entitled "Becoming Chocolate Barbie – a guide for professional women in the music business" in June 2018. The book was written in an interview format so that readers may easily use it as a reference resource. Women who aspire for a life in business can appreciate the insights she shares.
Her creative advocacy for woman's empowerment is evident in her eight CD release; "Flawsome". The title of this powerful CD project is a newly coined expression that describes something that is extraordinary because of its imperfections. The project features an iconic lineup of guest artists like Maysa, Dwight Adams, Jeanette Harris, Euge Groove, and Gerald Albright.
Most artists who put a "Doc" in their name do it out of cleverness, for marketing reasons, or as a crafty way to express their mastery of their instrument or vibe. Since the release of his 2003 debut Saxappeal, Phillip "Doc" Martin has all that down pat, wowing audiences everywhere from Blues Alley in D.C. to the St. Lucia Jazz Festival and the Catalina Island JazzTrax Festival and earning inspiring amounts of airplay (including on XM Watercolors and The Weather Channel) for tracks like "Deep Pockets" and the title track from his 2009 set Realization. His latest Next Paradigm Records Self-Titled release, Phillip Doc Martin further establishes this powerful expertise via his dynamic flow and tight, funky old school driven alto vibe.
While many independent artists with cool, successful "day jobs" prefer to avoid references to them when they talk about their music, Martin is the complete opposite, fully embracing the inspirational factor of being a top notch practitioner in two very different professions. Beyond his ever-expanding musical fan base, hundreds of patients in the Washington DC area know him as "Dr. Martin," a board certified dentist at his own practice Quality Dental of Bowie.
Born in Indiana to Jamaican parents, Martin grew up in South Florida and began playing music in the Broward County public school band program. Developing his fiery performance style by age 14, he became a leading soloist at South Plantation High School Jazz Band and was honored as a first chair selection to Florida's All State Jazz Band. He went on to study music at the University of Central Florida, where he was soon invited to play as a sideman with Grammy Award winner Sam Rivers, Grammy nominee Kirk Whalum, Sunnie Paxton, Wes Hamrick, Davonda Simmonds and Sisaundra Lewis and the Sounds of Soul.
As Martin continued to hone his skills, he became influenced by influential sax players from across the traditional and smooth spectrum, including Charlie Parker, Everette Harp, Grover Washington Jr., Dave Koz and Gerald Albright. His appeal as a live performer has secured him shows at prominent venues like Ram's Head Tavern in Annapolis, Maryland, Philadelphia's Dell East and SoCal's Spaghettini, in addition to appearances at the Bahamas Jazz Festival, Carolina Music Festival, Trenton Jazz Festival and Berks Jazz Fest.
Because of the financial ups and downs of being an independent artist, Martin made an important life decision to become a dentist, moving to the Metro DC area to attend Howard University College of Dentistry, where he received his degree and certification. His love of music and his commitment to dentistry were both so strong that he rebranded himself as Phillip "Doc" Martin and relabeled his early releases under that name so new fans could find them. With the release of 7 records and continuing in his thriving practice, he is showing the world that a person who dreams big can succeed at anything they set their mind to – even two professions at the same time!
"The truth is, as frustrating as things became for me as a musician over the years, I couldn't put the sax down," he says. "My first love was always playing the sax, and I continue to strive to be the best sounding alto player you've ever heard. I wanted to quit man times, but playing brings me so much joy, and I'm so glad I made the decision to continue. If it's unheard of that a saxophone artist also wants to be the best dentist you've ever gone to, that's a testament to the hard work I have put in so that I may enjoy these two amazing careers. In both worlds, success comes from working with incredible, dedicated people and developing inspiring, enduring relationships."