Electric Six & The Surfrajettes
Electric Six & The Surfrajettes appearing at The Tin Pan in Richmond, VA
Seating: We assign seats in order of when you purchase your tickets. All reservations are subject to a food and drink minimum of $15 per guest. Gratuity of 20% is automatically added to all food and beverage purchases.
Box Office: The Tin Pan charges lower fees for box office versus online sales. Our box office is open Tue-Sat 12PM-5PM. Please visit us during those hours or call 804-447-8189.
The Devil has always been there. He is the great outsider, the original iconoclast. He is a conniving little shit and never seems to tire of giving humanity a wedgie or a wet willie just for a laugh. The Devil is capable of taking many forms. He can exist as one being or spread out amongst many. He can present himself as an ordinary man or as a horrific cloven-hoofed beast depending on his mood. Above all else, The Devil lives to corrupt, to adulterate, to defile.
Electric Six has often used The Devil as subject matter for its songs because of that last bit, the part about corruption and adulteration. That's what Electric Six has been trying to do with its music now for quite some time!!!! We want to corrupt young women…. just like The Devil!!! There's nothing more rewarding than the seduction of a young innocent maiden, forcing her to wear demonic dresses, levitating her towards the great fiery skull and watching her eyes turn black as she gives into evil and becomes the bride of The Devil!!!! That….is why we started this band….to help women realize their potential as sexy evil maidens with eyes reflecting the utter darkness of a corrupted soul.
With its fourteenth studio album Bride of the Devil, Electric Six examines the concepts of evil and corruption, humanity's various falls from grace, the nine circles of purgatory and of course, the internet itself. Bride of the Devil opens with the thunderous opener "The Opener", a bombastic celebration of the arena rock Electric Six never got to play. The next two numbers are textbook ear worm guitar pop numbers that deal with debilitating income inequality and nepotism ("Daddy's Boy") and the horrors of being forced into a pool of toxic waste by an a rabid Doberman trained to kill ("(It Gets) (A Little) Jumpy").
And then we get to the title track, a radio anthem, where it all becomes clear that The Devil is a metaphor for Russia and the United States is the young girl who is seduced, corrupted and wedded into a Satanic covenant with the beast. It's all there in black and white. The Carrie Underwood-esque lyrics alongside a backdrop of vodka and caviar and backchannels and Seychllian bank accounts. That's how they did it. They went after our country performers and got the rubes to feel good about being Russian assets. And still, it is the feel-good anthem of the summer.
Finally, the haunting album closer "Worm In the Wood" is Electric Six at its most serious, most tender and emotional. Haunting. Effervescent. Corrupt. Jaundiced. Tired.
So there you have it. Electric Six is back with its fourteenth record and it's poppy and feel-good, as well as heavy, both sonically and lyrically. Our sound will corrupt you and enslave you as the beautiful demonic bride you know you truly are. Fraulein, take this severed hand with it's creepy long nails from the beginning of time. To do so is truly thine destiny.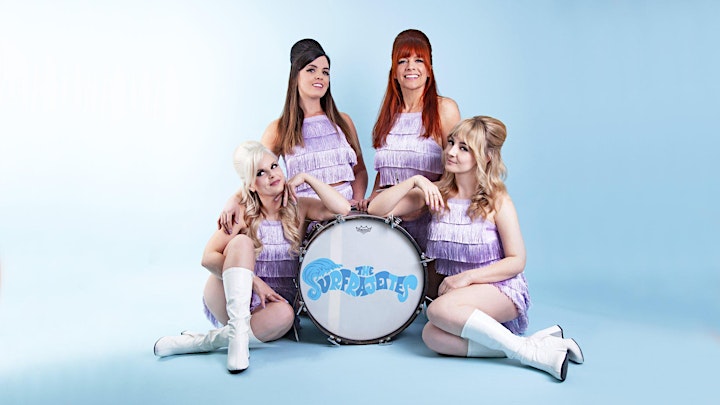 The Surfrajettes are a four-piece instrumental combo from Toronto, ON, Canada. Since forming in late 2015, the band has charmed audiences with their clever mix of psychedelic rock and reverb-drenched surf music, sky-high beehives, go-go boots, and eyeliner as thick as their guitar strings.
The band achieved viral online notoriety from their home-made performance videos and their feature by Norman's Rare Guitars in LA. The debut 45 single "Party Line / Toxic" released late 2018 on Hi-Tide Recordings to immediate success. The band has toured extensively in its support, including performances on The Beach Boys Cruise, The Melissa Etheridge Cruise, at Nashville Boogie, Wild O Fest in Mexico City, The New England Shake-Up!, Surf Guitar 101 Convention, Tiki Oasis & Hi-Tide Summer Holiday: Asbury Park.
The band released the follow up single "Hale'iwa Hustle / Banzai Pipeline" in 2020, supported by a festival appearance at Hi-Tide Winter Holiday: Pittsburgh. The group spent the rest of 2020 and most of 2021 writing and recording their debut LP "Roller Fink" – in stores NOW from Hi-Tide Recordings.
The Surfrajettes are guitarists Shermy Freeman and Nicole Damoff, bassist Sarah Butler, and drummer Annie Lillis. When not on tour, the group is busy woodshedding in their secret beach hut, sewing new miniskirts, debating vintage gear, and daydreaming about performing in a Quentin Tarantino movie.