Synchronicity (The Police Tribute)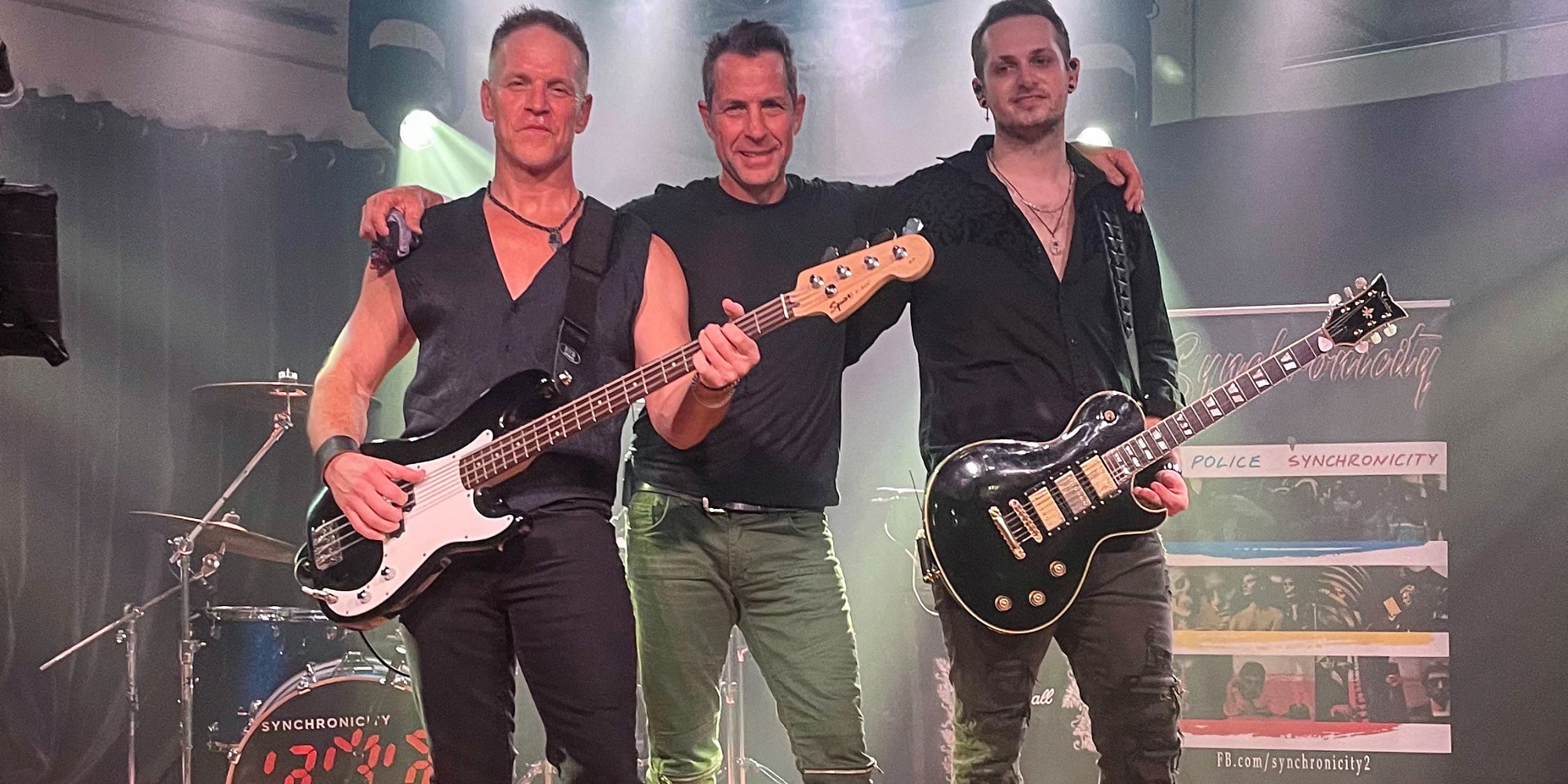 Synchronicity (The Police Tribute) appearing at The Tin Pan in Richmond, VA
Seating: We assign seats in order of when you purchase your tickets. All reservations are subject to a food and drink minimum of $13 per guest.
COVID-19 Policies: As live music reopens across the country, we, along with other venues, are prioritizing the health and wellness of our guests and staff while closely monitoring all government guidelines and recommendations regarding the spread of infectious disease. We anticipate having limited venue capacity and requiring face coverings for all staff and guests for the foreseeable future. Additionally, tickets will only be available for parties of 2 or larger, due to social distancing restrictions.
Box Office: The Tin Pan charges lower fees for box office versus online sales. Our box office is open Mon-Fri 12PM-5PM. Please visit us during those hours or call 804-447-8189.
Synchronicity – The Police Experience
The English rock band The Police has released five studio albums, two live albums, seven compilation albums, twelve video albums, four soundtrack albums, and 26 singles. The Police sold over 100 million records worldwide. All this within six years of being a band.
Synchronicity, The Police Experience, was established in Columbia, South Carolina in 2017. Recreating the sound of the Police was no easy task. It started with Brian Geiger wanting to go outside the box and learn Stewart Copeland's drumming style. When Brian shared the experience with his buddy Lael Silva, an experienced local guitar player, Lael became inquisitive about Andy Summers' atmospheric style of playing. At this point, they realized it would be a challenge to play a few Police songs together, so they called in Ken Carnes to be "Sting". Ken had been singing opera and starring in classical plays but accepted the challenge to get back to good-old-rock.
The Police experience was born.
A two hour show reminiscent of the 2008 Certifiable Tour had begun. With a list of twenty plus hit songs like Message in a Bottle, Roxanne, Don't Stand So Close to Me, Wrapped Around Your Finger, King of Pain, and even deeper tracks from early Police albums like; Truth Hits Everybody, Next to You and Fall Out.
If you love the Police and have seen them live, you'll appreciate the detail that goes into the Synchronicity set. The famous sparkle blue Tama drum set that Stewart Copeland uses, the guitar sounds performed by Andy Summers, and even the outfits from the Certifiable Tour gives an almost exact replication of the Police live.
The energetic playlist will make you fall in love with this band all over again. Our goal is to bring the intensity of the early 80's music to new generations. We are honored to deliver The Police Experience to you.