"Sax at The Pan" feat. Elan Trotman & Marvin Taylor
November 12 @ 8:00 pm

-

10:00 pm

$37.50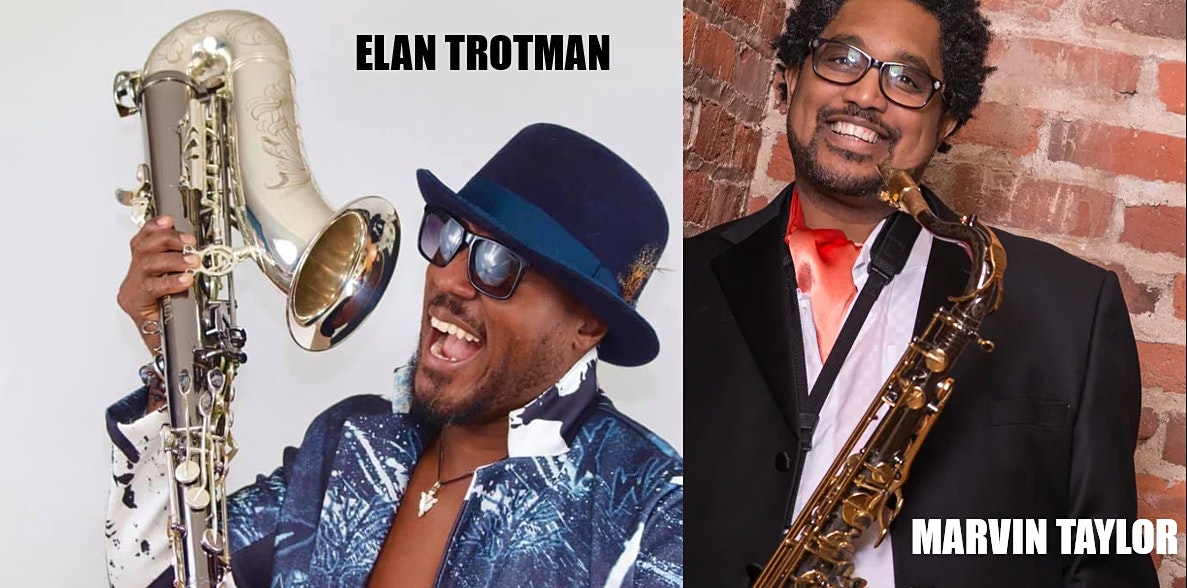 Elan Trotman and Marvin Taylor appearing at The Tin Pan in Richmond, VA
Seating: We assign seats in order of when you purchase your tickets. All reservations are subject to a food and drink minimum of $15 per guest. Gratuity of 20% is automatically added to all food and beverage purchases.
COVID-19 Policies: As live music reopens across the country, we, along with other venues, are prioritizing the health and wellness of our guests and staff while closely monitoring all government guidelines and recommendations regarding the spread of infectious disease.
Box Office: The Tin Pan charges lower fees for box office versus online sales. Our box office is open Mon-Sat 12PM-5PM. Please visit us during those hours or call 804-447-8189.
Saxophonist Elan Trotman, has quickly become one of jazz's most thrilling and emotive performers as he continues to stand out and push boundaries as a composer, performer, teacher and recording artist. Trotman's playing, though inspired by Grover Washington, Jr., Kirk Whalum and Najee, displays his own fresh ideas and distinctive tone. So much so that the New England Urban Music Awards, and The Barbados Music Awards both named him Jazz Artist of The Year on multiple occasions.
Trotman is also the Executive Producer and host of the Barbados Jazz Excursion, a jazz and golf weekend getaway which brings over 300 music lovers to the island every Columbus Day Weekend. Past performers include Jeff Lorber, Javier Colon, Gerald Veasley, Brian Simpson, Althea Rene, Marcus Anderson, Peter White and Jeffrey Osborne. Elan is also the founder of the Never Lose Your Drive Foundation – a Non-Profit which directly funds the Headstart Music Program. Headstart Music provides FREE weekly instrument instruction to students ages 7-11 on saxophone, trumpet, flute, clarinet and percussion. In 2016, over $6,000.00 was raised at the Jazz Excursion Weekend and Golf Tournament. All proceeds go towards tutor salaries, instrument maintenance and supplies for the program.
Born and raised in Barbados, the native island of pop star Rihanna, and educated at the world-renowned Berklee College Of Music in Boston,T rotman approaches jazz in his own way. Blending Caribbean rhythms from his roots with skillful horn textures, his playing is full of surprises.
Trotman has recorded and performed with a number of world-class musicians, including Michael McDonald, Roberta Flack, Jonathan Butler, Keiko Matsui, Johnny Gill, Jeffrey Osborne, Sheila E, Marcus Miller, Will Downing, Earl Klugh, Jeff Lorber, Peter White, Peabo Bryson, Brian Simpson and many others. A huge sports fan, Trotman has performed the National Anthem on numerous occasions for such teams as the Boston Celtics, Boston Red Sox, Arizona Diamondbacks, Cincinnati Reds and Los Angeles Dodgers. As an avid sports fan, Elan has provided entertainment for numerous celebrities including The Bronson Arroyo Band, Cold Pizza on ESPN with Woody Page, Jeffrey Osborne Celebrity Golf Classic, Chris Tucker Charity Golf Tournament, Ray Allen Golf Tournament, Hot Stove Cool Music with Peter Gammons and Theo Epstein.
As a recording artist Elan has topped the Billboard Radio Charts over 10 times. As a solo artist charting songs include "Heaven In Your Eyes" feat. Brian Simpson, "Tradewinds" feat Peter White, "Master Blaster", "As" feat. Lin Rountree, "Thoughts of Sumer" feat. Will Downing, and "Smooth N Saxy". Collaborations that have topped the charts include "Magic Men" (Marion Meadows), "Groove Me" (Greg Manning), "Just What You Need" (Brian Simpson), "Smooth (Cal Harris) and "Ride Along" (Julian Vaughn).
Richmond Virginia native Marvin Taylor shares his third jazz release, Alright, which will be available on his website, as well as anywhere digital music is sold. Since entering the music scene at the age of 9, Taylor has cultivated a passion to inspire through music. He has lived his life in pursuit of the joy and connection people experience through the power of music.
Taylor perfected his craft as a student of Virginia Commonwealth School of Music, where he was a member of the VCU Jazz Ensemble. Additionally, Taylor is an alumni of Berklee College of Music, and Virginia Union University
Throughout his career, Taylor has played with some of Jazz Music's greatest, including Dizzie Gillespie, Sonny Rollins, McCoy Tyner, Ronnie Laws, Christopher Williams, Clarence Carter, Sleepy Brown of Organized Noise, Lil John Roberts American Drummer, Vinx, Christopher Williams, Jerome Brailey of Parliament Funkadelic, Mutiny, Gladys Knight, Lou Rawls, Debra Laws, Tom Browne, Silk, Ronnie Jordan, Preston Crump, John Mitchell, Elon Troutman, Jahkem Joyner, Rico Tyler, Jeff Sparks, Darryl Combs, Ashby Anderson, Nate Smith American Drummer, and Carter Beauford of Dave Mathews Band.
In addition to performing with some of the jazz greats, Taylor has also shared the stage with many notable performers, such as Alex Bugnon, Kirk Whalum, Gerald Albright, Cyrus Chestnut, Nate Smith, Stanley Clark, George Duke, Brothers Johnson, Loose Ends, Kim Waters, Najee, Al Jarreau, Bob James, Jeff Lorber, Carter Buford, En Vogue and Norman Brown.