Rupert Wates w/ Ash & Eric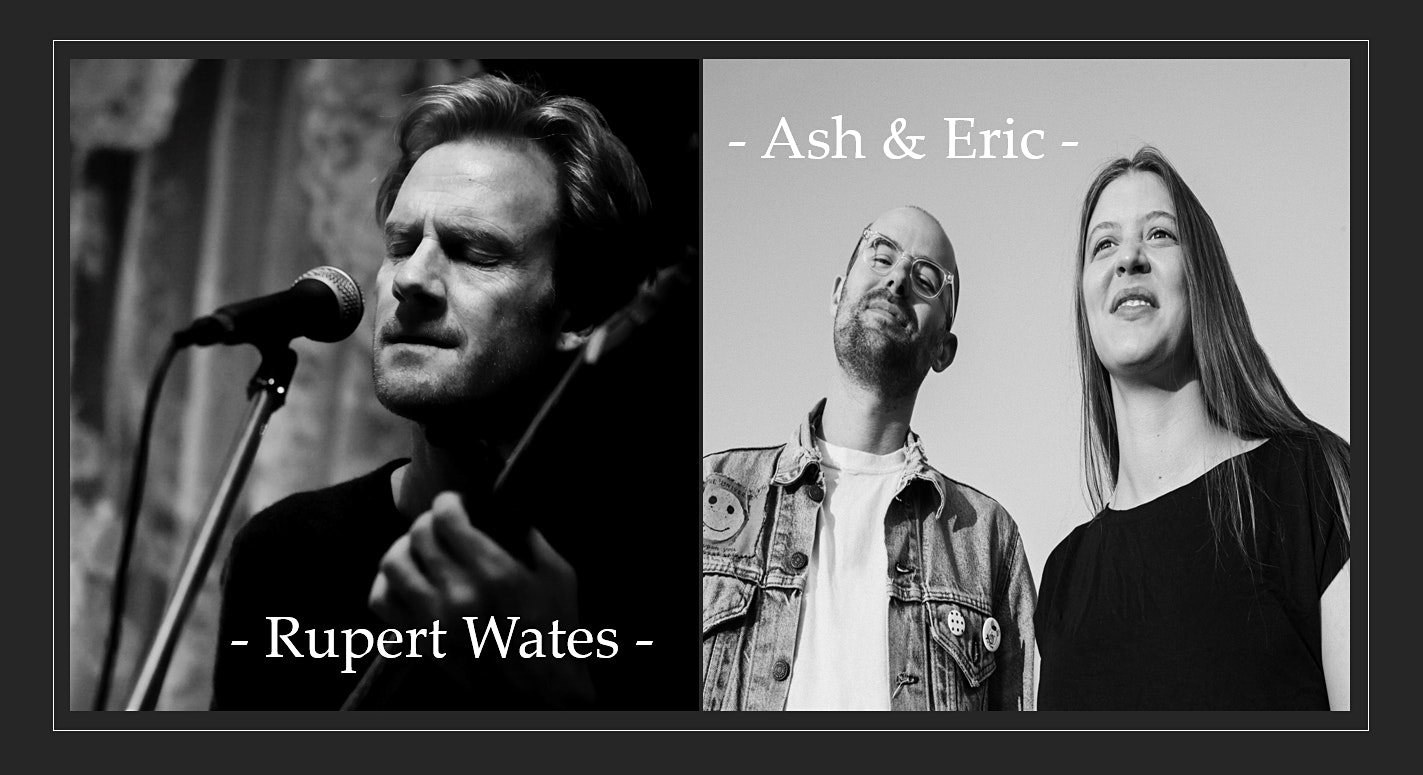 Rupert Wates w/ Ash & Eric appearing at The Tin Pan in Richmond, VA
Proof of complete COVID-19 vaccination required for entry.
Please bring your CDC-issued vaccination card (physical copy or a photocopy is acceptable).
Seating: We assign seats in order of when you purchase your tickets. All reservations are subject to a food and drink minimum of $13 per guest.
COVID-19 Policies: As live music reopens across the country, we, along with other venues, are prioritizing the health and wellness of our guests and staff while closely monitoring all government guidelines and recommendations regarding the spread of infectious disease. We are requiring face coverings for all staff and guests for the foreseeable future.
Box Office: The Tin Pan charges lower fees for box office versus online sales. Our box office is open Mon-Sat 12PM-5PM. Please visit us during those hours or call 804-447-8189.
Rupert Wates was born in London and studied at Oxford University. He has been a full time songwriter since the late 1990s, when he signed a publishing contract with Eaton Music Limited. In London he worked with some of the best performers in the city. Moving in 2001 to Paris, Wates formed his own quartet and began playing live regularly. In fall 2006 he came to the US. He is now based in New York City and Colorado. Since coming to the US, he has won more than 40 songwriting and performing awards (www.rupertwatesmusic.com/awards).
His music is an eclectic mix of acoustic, melodic art/folk, with flavors of jazz, vaudeville and cabaret. He has released nine solo CDs. They have received outstanding reviews in the international online press and tracks from them have been played on radio all over the world. In addition, Wates' songs have been covered by other artists in the UK, Canada and the US. Two full length tribute CDs to his material have been recorded: 'Crazy Puzzle' (2015) by Nashville-based performer Roxie Rogers, and 'Wide Open Heart' (July 2017) by Los Angeles vocalist Susan Kohler. Both these CDs were initiated and funded entirely by the artists themselves, and comprise exclusively songs taken from Rupert Wates' back catalog. Over 20 recordings featuring Wates's songs by other artists were made in 2016, and more are scheduled for 2017 (full list at www.rupertwatesmusic.com/covers).
In 2010 Wates released Joe's Café, an album of 15 original songs based on true stories, each interpreted by a different vocalist, retelling the stories of ordinary American people. Through them we trace the story of America itself: through two world wars, the Dust Bowl depression, Vietnam and the struggle for Civil Rights, all the way to the present day. Recorded live in the studio in a single weekend, the album's warm sound evokes the welcoming atmosphere of an all-night café, where friends gather to share their stories. Featured virtuoso musicians on the recording include Darol Anger on violin and Michael Manring on bass.
Joe's Café has been presented very successfully at Festivals throughout North America, and in other venues in New York City and in the southeastern United States. The show won Best Music Revue in the 2010 San Francisco Fringe Festival. More information about Joe's Cafe is at www.bitemusiclimited.com.
In 2014, Wates joined forces with Toronto-based virtuoso pianist Bartosz Hadala to form a piano/guitar duo called The Nightwatchers (www.thenightwatchers.com). The duo tour Canada and Europe regularly. In March 2015 they recorded and released a debut CD entitled The Nightwatchers, featuring some of the standout songs of Wates' extensive catalog.
Rupert Wates averages 120 live shows every year, in front of audiences totaling more than 3,500, in acoustic venues in every state in America, in Canada and in Europe. He performs sometimes alone, sometimes with his trio or his quartet. He prefers smaller listening rooms where the audience is up close and the emphasis is on the music. He was voted an Artist Of The Year in both 2013 and 2016 by the international house concert network Concerts In Your Home (www.concertsinyourhome.com), and for five years running he has been the most booked performer on their database of several hundred artists. In 2018, Wates was a Finalist in the Kerrville New Folk Song Contest, and an Emerging Artist at Falconridge Folk Festival.
Despite Wates' British background, and underpinning the universality of his music's appeal, Folk And Acoustic Music Exchange has called him "a prime figure in American music" (www.acousticmusic.com) and goes on: "This is one gifted sonofabitch… If you're not hip to this guy yet you're missing out."
Audiences everywhere respond to Wates' brand of melodic art/folk—haunting songs that ring true.
Discography: For The People (2022), Lamentations (2020), Full Circle (2019), The Lights Of Paris (2017), Colorado Mornings (2016), The Nightwatchers (2015), The Rank Outsiders Ball (2014), At the Losers' Motel (2012), Joe's Café (2010), Dear Life (2008), Coast to Coast (2007) and Sweet or Bitter Wine (2005).
Ash & Eric (formerly 'The Promise is Hope') have never shied away from life's hard edges.
Hailing from the gritty heart of the Industrial Revolution — Worcester, Massachusetts — the two find consolation in discovering beauty from the challenges of being artists in the most stubbornly independent cities in the north east. Their musings reflect the hope and pain we all experience sung in voices as vulnerable and honest as their lyrics. Their songs feel like a warm welcome, a shoulder to lean on and a hand to hold at the end of a long day. In addition to top tier writing that No Depression says will have you "…coming away from many of these cleansed," their warm harmonies, swirling acoustic guitars, and easy stage presence have earned them a dedicated following in the North East folk scene. Their highly-anticipated debut LP (their third as a duo, but first under "Ash & Eric") was recorded, mixed and produced by Eric at a boarding school in Western Massachusetts; and will be released May 6, 2022 with an accompanying 25-minute visual EP to drop in the fall.