Paul Taylor & Michael Lington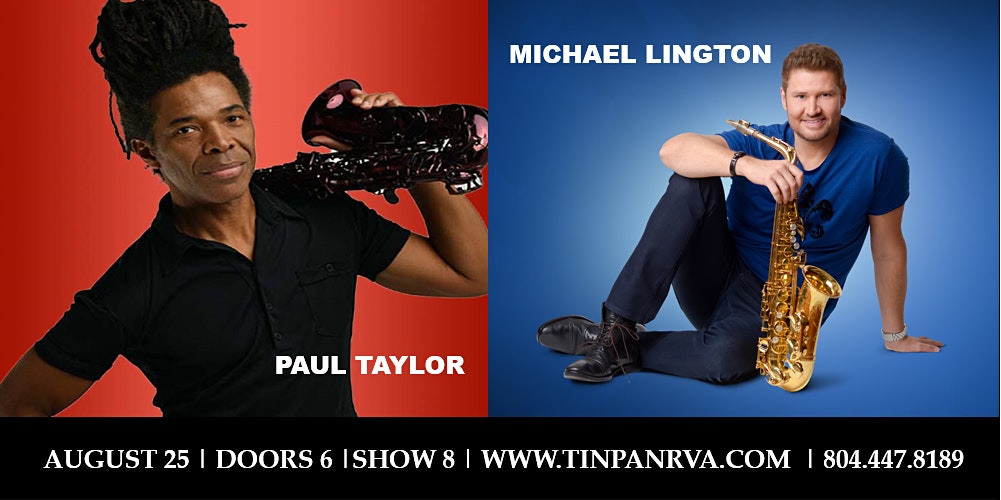 Paul Taylor & Michael Lington appearing at The Tin Pan in Richmond, VA
Proof of complete COVID-19 vaccination required for entry.
Please bring your CDC-issued vaccination card (physical copy or a photocopy is acceptable).
Seating: We assign seats in order of when you purchase your tickets. All reservations are subject to a food and drink minimum of $13 per guest.
COVID-19 Policies: As live music reopens across the country, we, along with other venues, are prioritizing the health and wellness of our guests and staff while closely monitoring all government guidelines and recommendations regarding the spread of infectious disease.
Box Office: The Tin Pan charges lower fees for box office versus online sales. Our box office is open Mon-Sat 12PM-5PM. Please visit us during those hours or call 804-447-8189.
Over 25 years into a stellar, multi-faceted career that's found him continually pushing the sonic boundaries of what's possible in contemporary urban jazz, saxophonist Paul Taylor brings us his highly-anticipated new recording AND NOW THIS on Peak Records.
AND NOW THIS, fully created via the exchange of digital files between the Las Vegas based Taylor and his longtime musical compadre, collaborator, co-writer and producer Dino Esposito, features the saxman's ongoing exploration of an expansive range of dynamic danceable grooves and intricate pop/electronica vibes. The ten tracks fully reflect the way Taylor began moving forward in his personal and creative life, as if to say, in his words, "we're coming out of the pandemic, this is what I've been creating, we're kicking it back into high gear and we are more open-minded in our approach to music than ever."
From the atmospheric soul and fast paced funk of the title track (featuring the guitar of Brian Monroney) through the sultry flow of the closing track "Good Night," AND NOW THIS also celebrates the decades long friendship and intuitive, forward thinking musical chemistry between Taylor and Esposito. Their dynamic history dates back to when they played in the same band as students at the University of Nevada Las Vegas – and includes Taylor touring in Esposito's band when he was a pop star in the late 80s touring with New Kids on the Block. Esposito has been Taylor's chief sonic co-architect since the saxophonist's 1995 debut On The Horn and subsequently collaborated on Pleasure Seeker (1997), Undercover (2000), his Peak Records debut Hypnotic (2001), Nightlife (2005), Prime Time (2011), Tenacity (2014) and Countdown (2016).
While for some artists, song titles on instrumental urban jazz releases are merely clever sounding afterthoughts, the names of each track on AND NOW THIS represent the feeling and intention of the music. With its funked out grooves and swirling sax notes in the hook, "Friday@5" is all about that moment when we clock out, make our weekend plans and have the freedom to, as Taylor says, "chill and relax or take a drive along the coast." Likewise, "The Face of You" represents a new facet of the saxman's ever-deeper artistry, an immersion into an urban exotica landscape and hypno-cool synth textured atmosphere with his ever-present soaring soprano. Next is "Epic Dream," a groove of soundscape effects and soaring atmospheres that's pure dreamy escapist.
Taylor enjoys riffing on the way some of the other titles combine to create something of a narrative about how the project took shape: "With Dino's amazing synth swells, 'Seize the Day' is that perspective we've all gained this past year about the importance of living in the moment, and for musicians, it's about always being the best version of ourselves. The vibe of 'One Step Closer' reminds me of that cool step music that was coming out of Chicago, but of course thematically it's about working hard each day to finish the work or fulfill a dream. Those angelic synth voices Dino created throughout are like our special encouragers, reminding us that we can do it and to keep going. Covid happened, and we couldn't get together to record, but we always 'Find a Way' to make things happen. It's kind of a sweet romantic tune that tells us no matter what obstacles come in our path, we can always figure things out and get past them."
Among Taylor's chief musical influences in recent years have been globally popular, cutting edge DJ/producer/artists like the late Avicii, Tiesto and Regard. Complementing the new album's nine inspiring originals, Taylor and Esposito have a blast bringing a vibrant, freewheeling new energy to a re-imagining of "Ride It," Regard's global 2019 hit remix of Jay Sean's 2008 #1 UK R&B hit that started as a viral sensation on TikTok. Taylor's infectious twist features the smooth, soulful vocals and fast paced phrasing of Jamie Jones of the GRAMMY winning group All-4-One.
The remarkable thing about those Taylor-Esposito collabs is that even the earliest albums they did together in the late 90s and early 2000s sound as sonically and rhythmically innovative as they did a few decades ago. A popular presence in contemporary urban jazz since the early 90s when he toured and later recorded with Keiko Matsui, Taylor scored #1 Billboard hits in the 2010s with "Burnin'," "Push To Start" and "Supernova" and had his first #1 on the Billboard Contemporary Jazz Albums chart with Ladies' Choice (2007), which was produced by Barry J. Eastmond and Rex Rideout.
During the course of his storied career, the Denver native has headlined hundreds of shows and has been part of numerous all-star tours – including dates with Peter White and Euge Groove in a lineup affectionately dubbed "Peter, Paul and Euge;" Gentleman of the Night (with Marion Meadows and Warren Hill). He has also performed with The Rippingtons and the acclaimed "Groovin' For Grover" tour. Some of his first post-pandemic lockdown shows have been with labelmate Michael Lington and Sax to the Max with Michael and Vincent Ingala.
Officially entering his second quarter century of recording, with AND NOW THIS, Taylor is as excited as ever to continue casting his creative aim higher and grateful for every opportunity to bring his best to his loyal legion of longtime and newer fans. "What I like most about the new album is its freshness, and the fact that after 25 years, Dino and I still have so many unique avenues to explore," he says. "It's a special album created in unusual, highly stressful times. There's something to be said for all of us artists persevering through the shutdown of 2020 and finding a way to get it done. And we did — AND NOW THIS!"
Michael Lington is an award-winning saxophonist, songwriter, producer, recording artist and a purveyor of soul and contemporary jazz.
He has released 12 solo albums and has 27 singles that have charted on the Billboard and Radio & Records (R&R) contemporary jazz radio charts.
Over the course of his career, Lington has collaborated with Michael Bolton, Barry Manilow, Randy Crawford, Bobby Caldwell, Kenny Lattimore, Booker T. Jones, Ray Parker, Jr., Taylor Dayne, Brian Culbertson, William Bell, Dave Stewart, Vince Gill and many others.
He has toured regularly his entire career, averaging 60-80 shows per year. In recent years, Lington joined Michael Bolton on tour as his opening act & special guest. Lington and Bolton performed over 350 shows together in more than 40 countries.
Barry Manilow invited Lington to join his "One Last Time" arena tour. Michael opened the show and joined Manilow on the song "Brooklyn Blues" during the headliner's main set.
In Nov. 2016, Lington performed for the Memphis Music Hall of Fame ceremony, honoring 2016 inductee Charles Lloyd. Stax Records soul singer William Bell and Snoop Dogg also performed at the induction ceremony.
In September 2019 it was announced that Michael would join the Dave Koz and Friends; Gifts Of The Season Christmas tour alongside Koz, Jonathan Butler, Melissa Manchester and Chris Walker. The 22-date concert tour traveled across the U.S. between November 29 and December 23, 2019.
In 2020 during the pandemic, Michael become one of the leading music artists producing hi-quality virtual shows, which earned him a most innovative artist award by Stageit!
Lington is signed to the The Reliant Talent agency for worldwide representation and has a publishing administration deal with Kobalt Music Publishing. He is an ASCAP songwriter/publisher and a 22-year voting member of the Recording Academy.