Mean Mary & Olivia Haynes Ansari
October 3 @ 8:00 pm
$20.00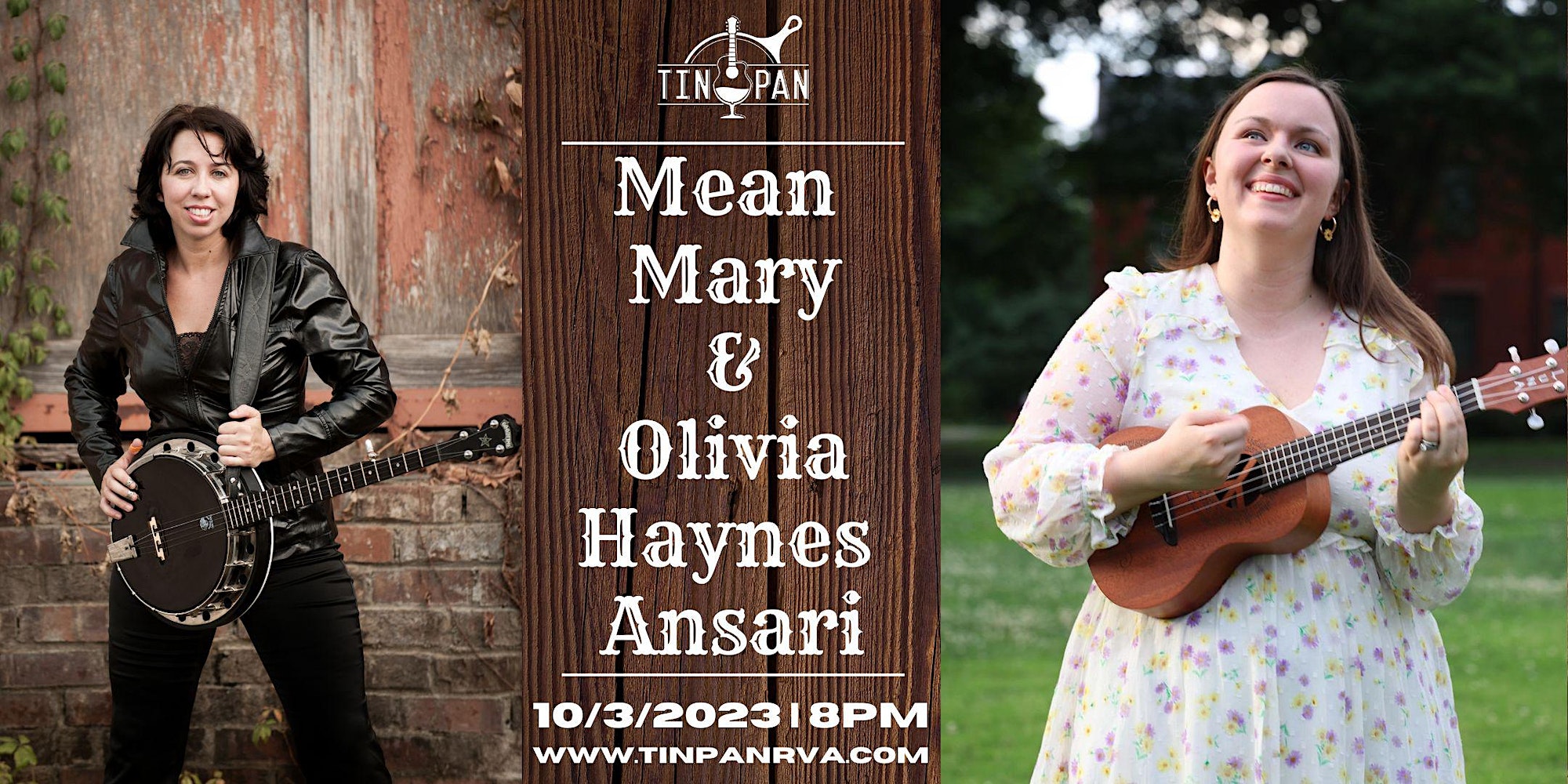 Mean Mary & Olivia Haynes Ansari appearing at The Tin Pan in Richmond, VA
Seating: We assign seats in order of when you purchase your tickets. All reservations are subject to a food and drink minimum of $15 per guest. Gratuity of 20% is automatically added to all food and beverage purchases.
Box Office: The Tin Pan charges lower fees for box office versus online sales. Our box office is open Tue-Sat 12PM-5PM. Please visit us during those hours or call 804-447-8189.
Award-winning musician/writer and fan favorite (over 30 million views on her YouTube videos), Mean Mary, literally grew-up in music. She evolved from a child prodigy who played for tips on the streets of Nashville ("startling talent" said the Tennessean) to a seasoned performer and headliner of over 4000 festivals and concerts ("the voice of a ragged Angel combined with the banjo playing of the Devil" says No Depression).
Deering Banjos named her their Goodtime Ambassador, and Janet Deering describes her banjo playing as giving her "chills." Equally versatile on guitar, fiddle, and 8 other instruments, Mary is known internationally for her lightning-fast fingers, haunting vocals, and intricate story songs. As a high-energy performer that thrives on variety and as a songwriter that chooses unusual subject matters, anything from ghost pirates to demon guitars could romp through a Mean Mary show.
Richmond-based singer/songwriter Olivia Haynes Ansari has enchanted audiences across the world with her soulful voice and ukulele. Her performances encompass everything from original songs to jazz classics to folk pop/rock to Broadway to Afghan music.
Olivia's musical roots run deep. She was surrounded by music from a young age and developed a love for vintage sounds, including the songs of Ella Fitzgerald, Joni Mitchell, and Lake Street Dive. She began performing her own songs while working with refugees in Vienna, Austria, and she continues to draw from these global influences. This journey led Olivia to Afghan music. While abroad, she met and married the love of her life, and this music allows her to connect with her husband's culture and welcome Afghan refugees. Her renditions of Afghan pieces have gained her a following among Afghans worldwide.
Whether it's a swinging jazz tune, a soulful ballad, or a melodious Afghan piece, Olivia sees music as a way to kindle wonder, spread joy, empower the marginalized, and bring people together.