Marcus Click and Jason Jackson
October 5 @ 8:00 pm
$35.00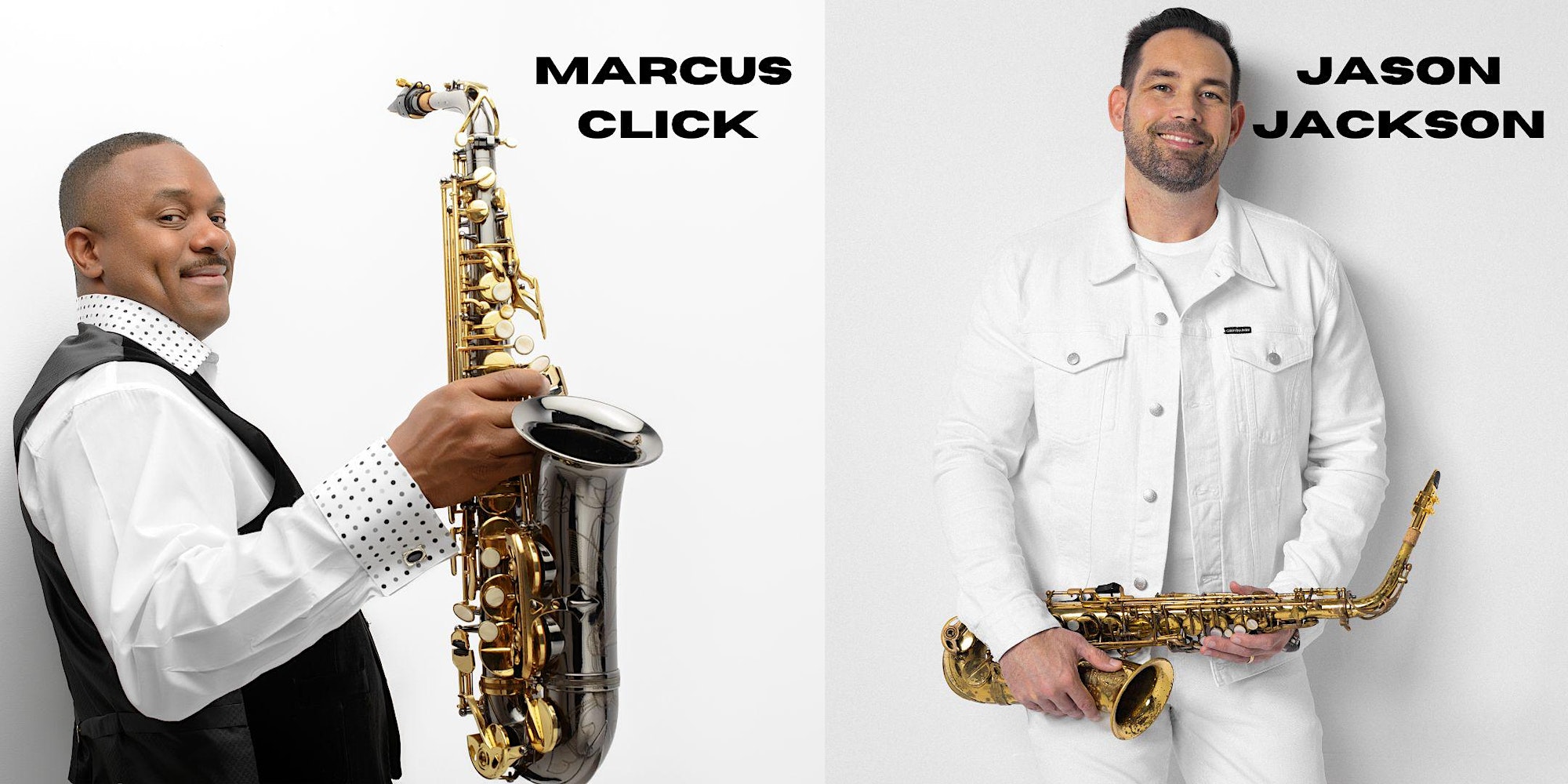 Marcus Click and Jason Jackson appearing at The Tin Pan in Richmond, VA
Seating: We assign seats in order of when you purchase your tickets. All reservations are subject to a food and drink minimum of $15 per guest. Gratuity of 20% is automatically added to all food and beverage purchases.
Box Office: The Tin Pan charges lower fees for box office versus online sales. Our box office is open Tue-Sat 12PM-5PM. Please visit us during those hours or call 804-447-8189.
As a native of Louisville, Kentucky, Marcus Click grew up with aspirations of becoming a pro football player, but his goals changed after having committed over 13 years of his young life to the U.S. Navy honorably. During this time, his love for jazz grew by listening and learning from the late Grover Washington, Jr., David Sanborn and Kirk Whalum, to name a few. Marcus says on one account," I became truly inspired by a phone call from the late saxophonist, George Howard, a conversation I'll never forget." Surprisingly, Marcus would find himself with Rebbie Jackson (sister of Jacksons; Janet Jackson) during her show in Las Vegas. He knew his life was being routed towards a musical journey.
During Marcus's musical journey, he has received encouragement from famed percussionist, Sheila E. and fellow saxophonists: Nelson Rangell, Najee, his sax mentors: Joe Yorio (Toured with Peabo Bryson), Mel Holder (Grammy & Stellar Award Nominee).
In 2019, Marcus won the AMG's Instrumentalist of the Year Award. Also, he has released music singles that have climbed the charts. Notably, his single, "Brand New Day", was produced by International Recording Artist, Jonathan Fritzen. It debuted #1 for the most spins (1st week in rotation) for Billboard Smooth Jazz radio stations. Also, "Together We Stand" charted on SmoothJazz.com Top 50 list and is currently spinning on Sirius XM Radio's Watercolors and the Music Choice Network.
Marcus is set to release his new self-titled CD "Brand New Day", this coming May 12, 2023. Some notable Artists, Musicians and Producers include: Mel Holder, Roger Ryan (Multi-Grammy nominated & Juno Award-winning Producer), William Green, Ben Parris, Madoca Kawahara (national recording artist & Japanese keyboardist), Jonathan Fritzen, Bob Baldwin and Alissia Benveniste.
A little about "Brand New Day": This compilation of music is about a brief summary of Marcus' life journey, based on the song titles, which carry a message. Marcus' journey as a young adult came from a single-parent home, but he would blossom into a renewed, inspired man, father and musician, which can be noticed and heard by through his music. Marcus really put his heart and soul into this album. This album should be celebrated by many because every day is truly a "Brand New Day".
Saxophonist and Billboard top 20 artist Jason Jackson is All In with the release of his newest project. This 8-track album is packed with ear catching melodies, grooves that won't quit, and collaborations with veteran contemporary jazz greats as well as the genre's newest rising stars. All In, produced by 14 time #1 artist/producer Adam Hawley is the follow up to Jason's debut offering, hit EP Movin' On(also produced by Hawley) and features appearances by Jason's old friend, teacher, and mentor Eric Marienthal as well as some new friends: Gino Rosaria, Jonathan Fritzén, Chieli Minucci, and Mr. Talkbox. After just one listen, you'll agree that All In is the perfect combination of "Groove and Smooth".
Before entering the smooth jazz scene, Jason, a native of Wilmington, NC proudly served 10years in the United Stated Navy as a musician where he was able to not only perform for audiences all around the world, but meet and make friends with people from many different cultures and backgrounds. It was from these experiences that he truly realized that music was the universal language and where he adopted his musical mantra of "Groove Supersedes All".
"Jason Jackson is one of the most talented up-and-coming artists and saxophonists I've worked with. He has an undeniable sound and presence, delivering soulfully with every deftly-placed note. Coupling this with the incredible bass stylings of Julian Vaughn, "All The Way" was a delight producing and is one of tracks I'm most proud of. Look out for Jason in 2021!" – Adam Hawley
"Jason has a natural knack for coming up with super catchy melodies and playing them on his sax with amazing dexterity and a whole lot of soul. He's got a bright future in the world of instrumental music as this new track featuring guitar great Tim Bowman certainly shows!" –Dave Koz