"Jazz with Class" Kim Scott and Phil Denny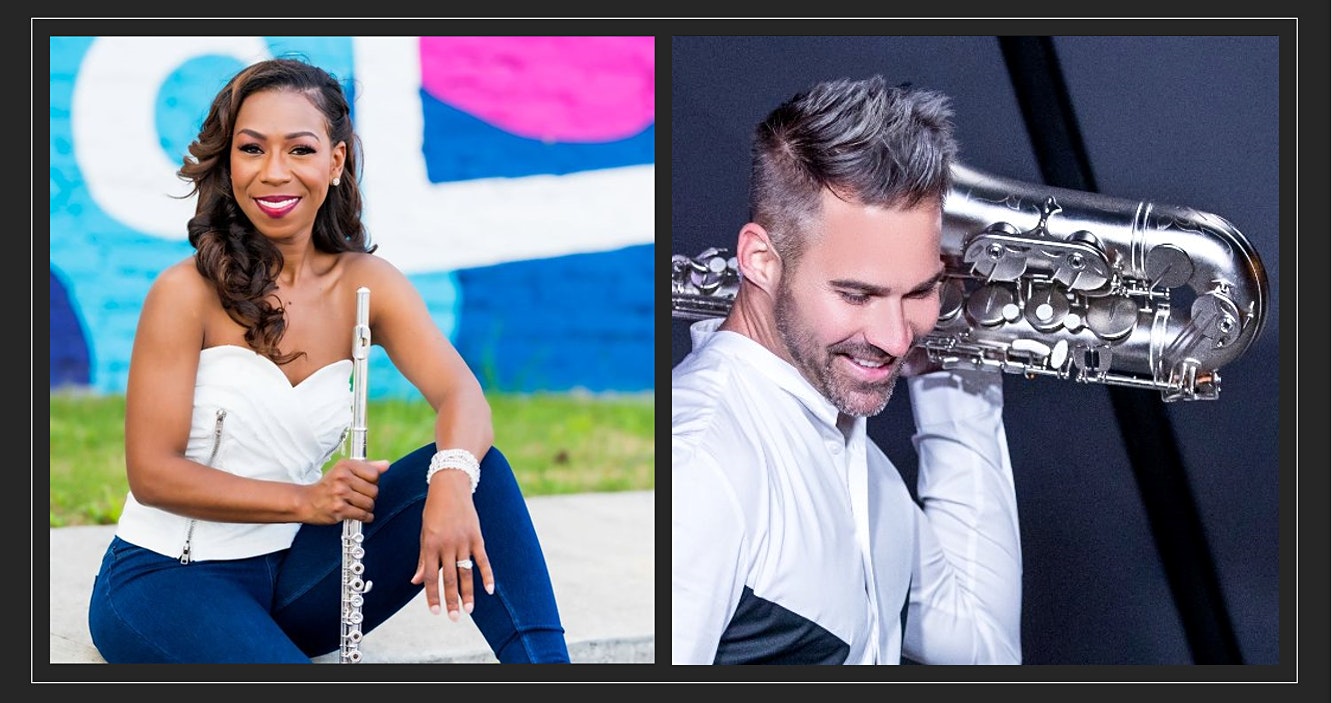 Kim Scott and Phil Denny appearing at The Tin Pan in Richmond, VA
Proof of complete COVID-19 vaccination required for entry.
Please bring your CDC-issued vaccination card (physical copy or a photocopy is acceptable).
Seating: We assign seats in order of when you purchase your tickets. All reservations are subject to a food and drink minimum of $13 per guest.
COVID-19 Policies: As live music reopens across the country, we, along with other venues, are prioritizing the health and wellness of our guests and staff while closely monitoring all government guidelines and recommendations regarding the spread of infectious disease. We are requiring face coverings for all staff and guests for the foreseeable future.
Box Office: The Tin Pan charges lower fees for box office versus online sales. Our box office is open Mon-Sat 12PM-5PM. Please visit us during those hours or call 804-447-8189.
Innervision Records label recording artist Kim Scott released her debut album of jazz music for flute in 2011 entitled "Crossing Over", which received high acclaim. She has since become well-known for her exceptional tone, intoxicating melodies, and flawless technique on the flute. Kim Scott released her sophomore CD, "Rite of Passage" in May of 2013. The debut single, "Golden" and the follow-up single "Block Party", were the #1 most played and most added songs the day of their national release. "Rite of Passage" was in the top 15 on all the national smooth jazz charts including the Billboards, Radiowave and Smoothjazz.com.
In 2016, she was signed to Innervision Records Label and released the single "Sizzle", written by her and trumpeter Lin Rountree, which made its way to the top 20 on national smooth jazz charts. September 2016 saw the release of "Southern Heat", Kim's 3rd album and her debut album on the Innervision label that took the world by storm. Kim's latest single, "Emerge", was co-written by herself and pianist Jonathan Fritzen and is the lead single from her 4th album "Free to Be". The single was #1 for two weeks on the Billboard and Groove charts. "Free to Be" was released July 19, 2019 and made its way to Billboard's top 25 Jazz Albums chart.
In addition to being a national recording artist, she is the host of "Block Party Radio Show" which airs on jazz radio stations across the globe and is now nationally syndicated across the United States.
Kim Scott has performed on the stages of Blues Alley, Seabreeze Jazz Festival, Greater Hartford Festival of Jazz, Catalina Jazz Traxx and more as a soloist. She is also a member of the all-female jazz supergroup Jazz in Pink, alongside other musicians such as keyboardist Gail Jhonson and violinist Karen Briggs, and has shared the stage with them across the country.
# 1 Billboard recording artist Phil Denny has become a household name in contemporary jazz and remains a topic of conversation and interest among an international audience. Impressive artistry, presence and passion combined with a unique ability to connect with people on and off the stage have earned Denny a resume of notable achievements in just a short time and give reason to play on.
The 10x Billboard charting, independent artist has been described as a passionate and soulful player often captivating audiences with his smooth, sexy yet energetic style. Friends and fans alike often describe him as a people's musician having developed and maintained a very active, loyal and ever-growing fan base even before the release of his internationally recognized 2012 debut CD, Crossover.
The identifiable sound of his silky smooth tenor sax is perhaps most familiar on the hit track Diggin' On which scored an impressive #13 position on the Billboard chart in 2017 from the sophomore release, Upswing (2015). Align, the forth studio album released in June 2018 is indeed a best-yet collection of eleven original tracks and welcomes great artist collaborations. The debut single, Switch Up earned a career first Billboard #1 as well as the top spot on the Mediabase and Smooth Jazz Network charts. "Feel Alright" feat. David P. Stevens earned a solid #2 on Billboard in 2019 and the recent 2020 single release, "Lifted" scored a #5 on Billboard and spent 17 weeks on the chart. His 2020 EP release, "Urban Troubadour" has already earned him rave reviews and the hit single, "Tough Get Goin'" scored a #7 on Billboard.
Performances of note to date include an appearance at the 2012 Dubai International Jazz Festival, Headlining Jazz Under the Stars 2013 in Nairobi, Kenya, co-headlining 2014, 2013 Arizona Jazz Festival, 2013/2014 GrandJazzFest, 2014 Shoreline Jazz Festival, 2016 Hyatt Regency Newport Beach Jazz Festival, 2017 Cancun Jazz Festival, 20th Seabreeze Jazz Festival (2018) and is a frequent performer on the venue/club scene. Additionally, Denny enjoys performing as sideman to guitarist Peter White and more.