Jazmin Ghent "Saxy Lady" & Alex Parchment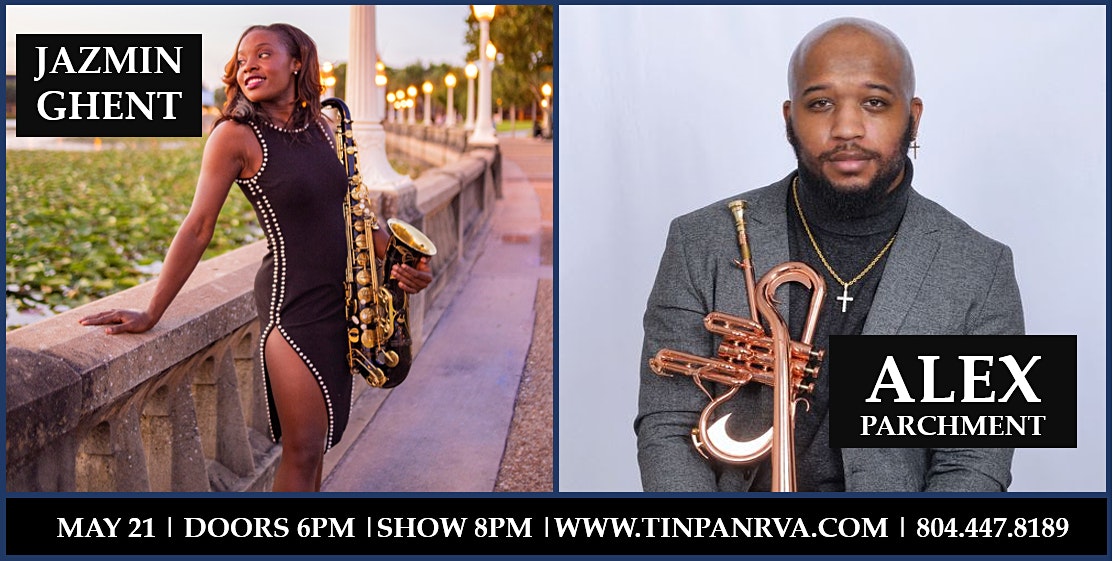 Jazmin Ghent appearing at The Tin Pan in Richmond, VA
Proof of complete COVID-19 vaccination required for entry.
Please bring your CDC-issued vaccination card (physical copy or a photocopy is acceptable)
Seating: We assign seats in order of when you purchase your tickets. All reservations are subject to a food and drink minimum of $13 per guest.
COVID-19 Policies: As live music reopens across the country, we, along with other venues, are prioritizing the health and wellness of our guests and staff while closely monitoring all government guidelines and recommendations regarding the spread of infectious disease.
Box Office: The Tin Pan charges lower fees for box office versus online sales. Our box office is open Mon-Sat 12PM-5PM. Please visit us during those hours or call 804-447-8189.
Jazmin Ghent is an international smooth jazz and gospel recording artist as well as an accomplished music educator. She was awarded the prestigious 2019 "NAACP Image Award" for Outstanding Jazz Album, "The Story of Jazz". She was nominated for 2019 Smooth Jazz Network's Best Artist of the Year and was voted 2017's Best New Smooth Jazz Artist.
Jazmin is also an accomplished music educator. She taught music to students in grades K-5 for 5 years. In 2020 Jazmin was invited by the US Embassy in Haiti to spend 7 days presenting music workshops to adults and children. She worked with musicians demonstrating the origin of jazz from standards to jazz of today. The week culminated with Jazmin headlining the International Jazz Festival in Port Au Prince, Haiti. She has also presented workshops to young musicians in Syracuse, New York, Long Island, New York and Elmira, New York.
From the entertainment perspective, Jazmin has 6 top 5 Billboard singles: Kickin' It Up, Stride, Amends, Work Wit It, Heat, and Compared to What. Her most successful hit to date is Kickin' It Up, which was #1 on Billboard Smooth Jazz Charts (June 2, 2021 ). Stride, Amends, Heat and Compared to What remained on Billboard Smooth Jazz Airplay Charts for 20+ weeks and was played in rotation by most smooth jazz stations including Sirius XM Watercolors Channel for 7 + months. Jazmin has performed at various major festivals and venues throughout the country, in Europe and recently on the 2019 Dave Koz Cruise to Australia.
According to Art Good of Catalina Island's Jazz Trax radio and festival, "… unknown Jazmin Ghent was one of the BEST FINDS the festival has EVER uncovered. Obviously, she OUTSOLD ALL 30 stars of smooth jazz in the Jazz Trax Store, selling more CDs than anyone. She had stage presence, a show and she could play!"
Jazmin received a bachelor's degree from Florida State University and a Master's Degree from Tennessee State University. She is currently a PhD student at the University of South Florida. Her latest CD, "Forever…Jaz" was released January 2021.
#1 Billboard Trumpeter Alex Parchment
Alex Parchment is a dedicated musician, producer, and artist. He was born in New York City to hardworking, visionary parents. Alex has been honing his trumpet and piano skills for years with his acceptance into the Rosa Parks High School of the Fine and Performing arts in Paterson, New Jersey, Jazz Connections, Jazz House Kids' inaugural class, and through Howard University's rigorous music education major. Alex has had the opportunity to perform on wonderful stages including the Kennedy Center, Jazz at Lincoln Center and Blues Alley with jazz luminaries Patti Austin, Christian McBride, David Sanborn, Chick Corea, Marion Meadows and more. In 2015, he was selected for the world-renowned Betty Carter Jazz Ahead Program at the Kennedy Center. In July of 2019, Alex was invited by Kenny Wesley and the US State Department to travel to Tanzania to perform, cultivate knowledge and share American culture. Alex has led the groups The Alex Parchment Quintet, a traditional jazz ensemble and AP.Chemistry, a musical experiment fusing soul, funk, hip hop, R&B and jazz to form a unique but energetic sound.
He now performs as a solo artist. In April, 2020, Alex released his debut album entitled Burnin' Up, which yielded two placements on the Smooth Jazz Billboard's Top 30 Chart ("Vibin' In Time" rising to #1, and "It's Real" rising to #11 respectively). In January 2021, Alex released the single "When It's Hot" which climbed to #22 on Billboard. In August, 2021, Alex celebrated officially having 1 MILLION streams on Apple Music and released his latest single, Masterpiece!
Through education, Alex endeavors to inspire artists of all backgrounds to look to music as a means of expression and communication. Alex strives to connect a community of artists together to create art that pushes the boundaries of genre and musicianship.