Geno Marriott & The Spirit of Jazz
January 13, 2024 @ 8:00 pm
$30.00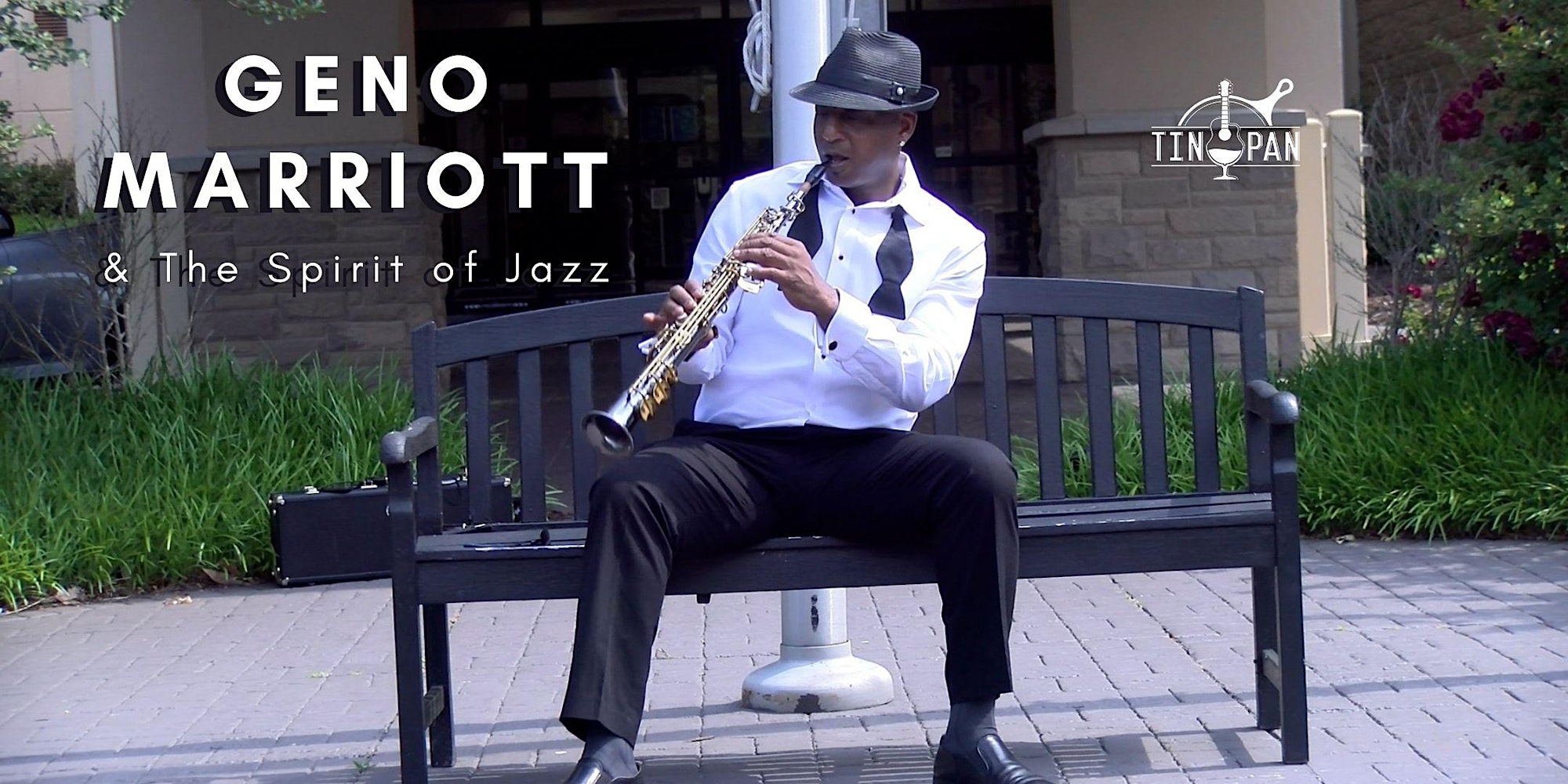 Geno Marriott & The Spirit of Jazz appearing at The Tin Pan in Richmond, VA
Seating: We assign seats in order of when you purchase your tickets. All reservations are subject to a food and drink minimum of $15 per guest. Gratuity of 20% is automatically added to all food and beverage purchases.
Box Office: The Tin Pan charges lower fees for box office versus online sales. Our box office is open Tue-Sat 12PM-5PM. Please visit us during those hours or call 804-447-8189.
Geno Marriott is an American jazz musician, producer, and entrepreneur. Known in music circles as "GMusic", he is the Director/Owner of GMusic Entertainment, LLC, the home of the popular Washington, DC area contemporary smooth jazz group "The Spirit of Jazz." His company manages several bands and musicians on the east coast, including Gospel, Country, R&B, Jazz, and Classic Rock Groups.
Geno Marriott was born in Philadelphia, Pa., but his family moved to the Raleigh, North Carolina area in a small community called, "Riley Hill", when he was 4 years old, for what his father called a "reboot in life." One day after his little league football practice, his parents bought him an alto saxophone. He wanted to play Trumpet but, his mother said, "I like the way the saxophone looks better." From that very moment Geno studied and played music in his room will attending Wendell Elementary School in Wendell, NC then to East Wake High School in the Raleigh/Durham area then eventually in college in Washington DC at Howard University. He performed in the Howard University "Showtime Marching Band". He enjoyed performing, but left his studies jazz and classical music…way too early ,to… "make money" in the Information Technology Industry. For nearly two decades, Mr. Marriott worked to "make money", but he was not fulfilling his real dream of performing music. After years of soul searching and experiencing the ups and downs of life, Geno knew that music was his saving station in life. He purchased a saxophone in 2009 and practiced until he could blow a note or two. He first gig was for $45 dollars in Baltimore, MD in 2010. He was happy that someone paid him to do what he loved to do! Over the next few years he performed with other musicians and bands while trying to find his niche in the music industry. Been in time as the years moved on and now nearly a decade later – Geno looks back at the various events and musicians he has played with over the years and looks forward to the musicians he will be playing.
In 2015 Geno met Kevin Carter, Tony Brown, Patrick Clark and Ralph "Bubbie" Jackson. This group became known as "The Spirit of Jazz." The Spirit of Jazz began performing for private events, small and large across the region starting in Washington, DC, Hampton, Va., Philadelphia, Pa, The Carolinas, New Jersey, Atlanta, Florida and New York City. They performed for an entire summer in 2017 in Manhattan inside of the Historic Flat Iron Hotel.
The Spirit of Jazz has grown, they have opened up for and shared the same stage with Smooth Jazz Artist: Dove Koz, Boney James, Marcus Johnson, Marcus Anderson, Jonathan Butler, Candi Daulpher, Julian Vaughn, Paul Taylor, Jakiem Joyner, and Bill Medley from The Righteous Brothers ("You Lost That Loving Feeling"). Geno has also shared the stage with Gospel Greats: Byron Cage and Marvin Sapp. Geno Marriott & the Spirit of Jazz have been headliners the Hampton Jazz Festival Kick Off in Hampton, and the are a crowd favorite at The Tin Pan in Richmond, Virginia.. In November 2019, Geno and his band opened at The Hampton, Roads Convention Century for the 7th Annual Jazz Legacy Foundation which featured Musical Greats Marcus Anderson, Gerald Albright, Peabo Bryson, Shorty, Maysa and others. In February, 2020 Geno Marriott & the Spirit of Jazz performed before a sold out Audience in Durham, NC at Rhythm's Live Music Hall. He is grateful to have come this far! Known for his energetic performances and choreographed moves with his Sax. He is a tremendous Saxophonist/Entertainer.
Geno has two CD projects under his belt, "The Spirit of Jazz released in 2016 and "Shades and Shadows." Released in 2020. Geno has returned back to the studio and for his much anticipated third project, "The People" It will be released in early 2023.