"A Night of Sax & Strings" feat: Jeanette Harris & Kevin Jackson
July 29 @ 8:00 pm
$42.50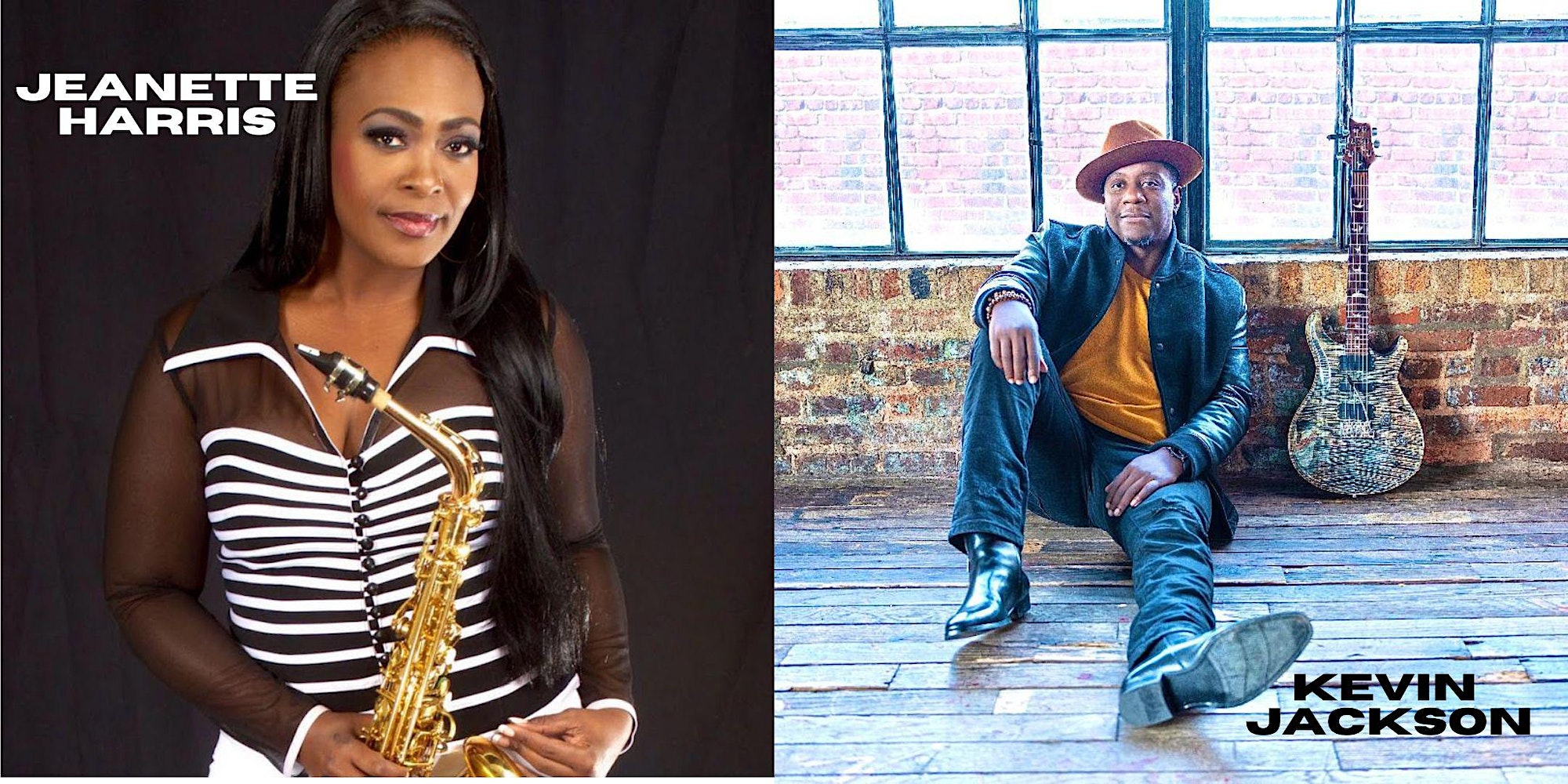 "A Night of Sax & Strings" feat: Jeanette Harris & Kevin Jackson appearing at The Tin Pan in Richmond, VA
Seating: We assign seats in order of when you purchase your tickets. All reservations are subject to a food and drink minimum of $15 per guest. Gratuity of 20% is automatically added to all food and beverage purchases.
Box Office: The Tin Pan charges lower fees for box office versus online sales. Our box office is open Tue-Sat 12PM-5PM. Please visit us during those hours or call 804-447-8189.
Jeanette Harris is the scintillating saxtress of smooth jazz. This lady understands that energetic and captivating performances matched with uplifting and inspiring vibrations in the music are the solid platinum recipe for success. Fans already recognize her for her wonderful cover of Stevie Wonder's "All I Do," which hit Billboard's smooth jazz singles chart from her previous album, Saxified. Classically trained in both sax and piano, a graduate of Boston's famed Berklee College of Music, and the saxophonist for the late, great Teena Marie's final year of touring, Jeanette has weathered the fiercest challenges to bring the world her own brand of soulful healing vibes. That baptism awaits in her fourth CD, Summer Rain, on which Jeanette had a hand in writing all of the selections except her lovely cover of the Luther Vandross classic "Here and Now." Its 11 sunny songs wrap the listener in the glow of fun love grooves and sweet romance.
"The music of Summer Rain is all about a positive vibe," Jeanette states. "It's about staying in love…never falling out of love, feeling good, being faithful and always following a positive route. Great things have happened for me in the last year. I've learned what's really important in life – my family and my music."
Those looking to hear Jeanette really dig in on her horn should focus on two songs that feature her friend Darrell Crooks on guitar. The first is the dreamy "Take Me There," a sensual mellow groove that finds Jeanette layering her horn in subtle combinations that tease, tickle and mesmerize the ear. And then there's "The Ride," a techno groove that bumps into some truly heated interplay and exchange between Jeanette and Darrell that makes you want to see what all of that energy looks, sounds and feels like live on stage. Other highlights include the playful "Ja'licious" (Jeanette's sassy melding of the word "jazz" with "delicious"), the radiant "Oh So Good" and the laidback groove "Chillin'." "My rapper friends say they can really flow on that one," Jeanette shares with a laugh.
Extra special are the passionately building "Passing Time" (a song featuring keyboardist George Freeman that initially came to her – out of the blue – in the shower), the lusciously melodic "Just Keep Holding On" (one of two writing collaborations with the prolific Chuck Cymone), and the spicily syncopated "Muy Caliente'" – Jeanette's maiden foray into Latin Groove on which she also plays some mean piano. Listen closely…ai cuidado!
The love-at-first-sight scenario song/title track of Summer Rain showcases the vocals of Jeanette's secret weapon singer Joel Bowers – math teacher by day, soul crooner by night. "One of my trademarks is writing a song for a vocalist then having the instrumental version on the same album," she offers. "On my CD Saxified, I wrote the lyrics first for 'You Can Dance' then reworked it for my saxophone. I switched it up for 'Summer Rain' and wrote the music first, then the words. I wrote the lyrics with my mother and think it's beautiful. It's about a guy who sees a pretty lady in the rain and falls for her instantly. It's important to remember those moments…especially when that person makes you angry! Reflect on that memory. You'll be more humble and understanding."
Equally inspired, but in a completely different light is Summer Rain's other vocal piece, "Thankful," a heartfelt offering of gratitude sent up to Jesus in song. "It's important to give thanks to The Lord," she says. "'Thankful' came from my heart with lyrics that I truly feel deeply."
*****
Jeanette Harris was born and raised in California's post-Gold Rush town of Fresno in the center of the San Joaquin Valley. Reared by her mother, Annette, and her church organist father, Floyd Harris – both of deep spiritual faith and intense believers in the art of music – Jeanette and her older brother, Michael, received their love of God and family genetically.
"When I was 5, my father put a guitar in my hands," Jeanette begins. "A year later, he switched me to piano with a private teacher. I didn't like it. Reading treble and bass clefs was so overwhelming that I would cry, but it gave me a great jumpstart. One day while driving me to 4th grade, Mom was playing a cassette by Grover Washington, Jr. I remember looking at the picture of his alto sax. It was beautiful and Grover made it look so hip. I felt it would be the perfect instrument for me."
Jeanette played saxophone and piano from grade school to high school where band teacher Steve Alcala also had her play in the Fresno City College jazz band even before she graduated high school. She won numerous awards and accolades, which led to a scholarship to attend Berklee in Boston where she earned a Bachelor of Arts degree in Music Performance.
Back in Fresno, Jeanette recorded her first self-released CD, Here and There, grabbing brother Michael to play drums with Patrick Olvera on bass, and began building a following by regularly packing Mike's Pub & Pizzeria. She recorded her official debut album Reflections followed by Smooth Holiday Greetings on her family's J&M Records (Jeanette & Michael's initials, Mom and Dad's funds).
Citing her influences, Jeanette continues, "(Saxophonist) Richard Elliot brought some serious R&B groove at a time when smooth jazz really needed more of that funk vibe, especially his song 'Corner Pocket.' I just loved his production! As a composer, Stevie Wonder's music touches the hearts of people with lyrics that have strong meanings, and beautiful chords and melodies. And (guitarist) Norman Brown is the one that inspired me to want to be a performer when my parents took me to see him for my very first concert at The Bastille in Hanford, CA. He gave me chills!" After crossing paths with Brown on the road, Jeanette co-wrote a song with him that became the title track of her fourth CD, Saxified. Brown recorded the song on his Grammy nominated CD, 24/7, with a different title, "The Best is Yet to Come" featuring Gerald Albright. "To have Gerald playing a melody that I wrote is so amazing," Jeanette shares.
Jeanette has played major events from The Coombs River Bend Ranch Festival to festivals in Japan and London.  She has performed as a side musician with Howard Hewett and Deniece Williams and has opened shows for greats ranging from smooth jazz stars Kirk Whalum, Najee and The Rippingtons to R&B stars Babyface, Phil Perry and KEM. "I got a standing ovation opening for KEM," Jeanette beams. "He came out to meet me and get my CD. His people said he never does that! That let me know my music does crossover."
The most special person to come along in the course of Ms. Harris' career thus far was singer/songwriter Marie, who hired her unheard/unseen in a destiny-streaked leap of faith totally befitting Jeanette's life and beliefs. "Her trumpet player saw me at the 2010 NAMM Show and asked for my business card. It had already been an unbelievable day where I got endorsements for both Unison saxophones and BARI Reeds. As I was driving home, the guy called me and asked if I wanted to play with Teena for a concert…in London! I couldn't believe it. I got 4 hours sleep that night studying her music then drove to L.A. for the audition. I had to pull off the freeway when Teena called me personally to get my passport information. The band tested my improvising skills on a funk song and a ballad – then I was in! Teena finally arrived, gave me a big hug and away we went. She featured me in her last concerts playing sax on 'I'm a Sucker for Your Love' and 'Portuguese Love,' and flute on 'Déjà vu.' She was truly a blessing in my life. Teena taught me how to be a strong female leader. I will miss her always."
Now with her fourth and finest CD Summer Rain bowing with her own signature Summer Rain perfume to match, Jeanette Harris is unquestionably the next "Starchild of the Saxophone" touching hearts with every breath she takes.
GUITARIST | BASSIST | PRODUCER
Baltimore, Maryland native Kevin Jackson has been taking the Smooth Jazz industry by storm since 2012, collaborating with artists such as Wyclef, Maysa, Oli Silk, and Eric Darius just to name a few. His current single "Elevation", featuring Judah Sealy, can be found on the Billboard Smooth Jazz Playlist and Watercolors on Sirius XM.
Jackson's mix of original compositions and acoustic renditions will take his listeners on a journey of anticipation for what's next. Jackson produces projects that offer something for every persons taste, whether it is Rock, Contemporary Christian, Jazz, Soulful R&B and more.
Jackson is often thought of as a "quiet giant" due to his humble and quiet nature but, once on stage it's easy to see this is where he's most comfortable and Jackson comes to life through his music. His live productions set him apart from the rest.
In 2012, he embarked on a career to record his first album, "Stories In Color" which was met with critical acclaim to his credit. His sophomore offering, "The Mirrored Truth" garnished the single "Favorite Way" which was considered for a Grammy for song of the year. His song "We Got Us" from his third album "Full Circle" was also considered for a Grammy in 2018.
Throughout the years, Jackson has opened for Anthony Hamilton, performed live shows around the country, and produced four albums. During the COVID-19 pandemic, Jackson continued his work and love for music by performing private shows for family, friends, and fans alike. He successfully recorded his fourth debut album set to release in August 2021. Catch his new single "Elevation", featuring Judah Sealy streaming on all platforms and available for downloads in June 2021.